250,00 € incl. VAT
New Volkswagen Caravelle​
The Volkswagen Caravelle is a people carrier for business and private use, with the practical style and features you'll appreciate every day.
Showing off a high level of function, the van has a wider angle rear-view mirror on the driver's side, a tailgate with a heated rear window and a self-supporting galvanised steel body. The model is finished in any of the smart and professional paint colour options on offer, presenting a strong presence for your company on the road.
Caravelle Interior
Up to six can travel in full comfort with the Caravelle, and the cabin is fully carpeted and protected by heat reflective glass.
The three-seat bench at the back folds down to make more cargo space. Certain models receive the restful Sleep Pack, transforming the interior into a space for the driver to rest and relax overnight.
Description
VW Caravelle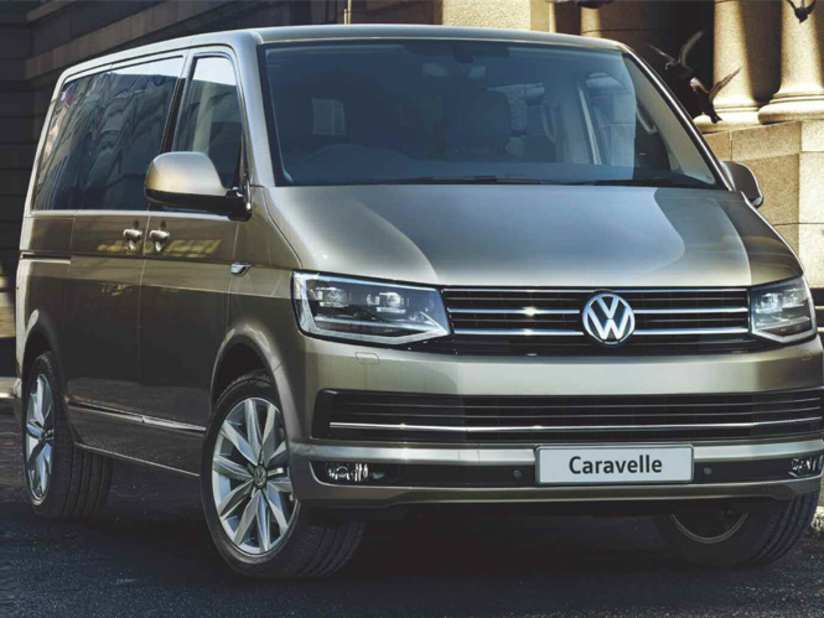 VW Caravelle. We doubt that the Volkswagen Caravelle needs much in the way of an introduction; after all, you can trace its heritage all of the way back to the original split-fronted, Volkswagen bus that was launched in the early 1950's.
Things have developed a little in the last seventy years, however so whilst that car was in effect a stretched version of the Volkswagen Beetle, the latest Volkswagen Caravelle T6 luxury van is purpose-built. Able to compete against rivals such as the Mercedes Benz V Class, the Volkswagen Caravelle offers luxury, comfort, and of course, plenty of space. for all of your passengers and when you have seven or eight passengers, that's quite important.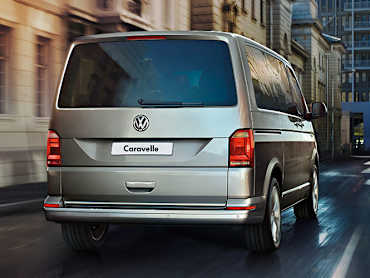 Holding a refined and efficient 2.0-litre engine, the Caravelle will not break any land. Speed records but why does it need to?
It offers you everything you need from a luxury van. Sufficient space, the option of up to eight seats, luxury finishes and comfort for everyone. The exterior offers a typical Volkswagen look, with the striped grill and famous badge adorning the front. If you need a luxury van for you and all of your family, try the Volkswagen Caravelle.
Interior
Rent the Volkswagen Caravelle for all of your holiday needs across Europe. The Caravelle is particularly useful for ski holiday, where it can fit all of your passengers and luggage with ease. Hire the Volkswagen Caravelle in Chamonix, Geneva, Courchevel and many other locations.
Brand
Europe Prestige Car Rent
Whether you´re looking for a luxury car rental for business or pleasure, we are here to help. With a wide range of cars, ranging from Super Cars to Executive Limousines, we have the luxury car hire, that you are looking for. With over 10 years experience in the luxury car hire industry, we understand our customers and their requirement for a straight forward, easy and effective service. At Europe Prestige Car Hire, we take pride in delivering exactly this.
Our passion, knowledge and drive to provide the best luxury car hire service in Europe, is what separates us from our competition. So whether you need to book a car fast, for the same day or you want to look at all of the available options, taking your time to decide on the right package for you, we will be with you every step of the way. This is what we enjoy. But our service doesn´t stop when you make the reservation, like with some companies. We are available at all times, to make sure your experience with us, is as good as it can possibly be.
If you are unsure which car you would like to book or where you would like to drive, contact us and we will be happy to assist you, in finding the best luxury car hire experience. Our cars are second to none and our service is top drawer. Let us use our experience to help you find your own, Europe Prestige Car Rent.
We offer the following prestige car brands in Europe: Aston Martin, Audi, Bentley, BMW, Ferrari, Lamborghini, Maserati, McLaren, Mercedes Benz, Porsche, Range Rover, Rolls Royce and many others besides.
Over the years, we have organised many car tours throughout Europe. Whether you need three or thirty cars, we have the experience and dedication, to organise a tour that suits your requirements. So if you are looking for a once in a lifetime, luxury car driving experience, contact us and we will be happy to help. Contact Europe Prestige Car Rent to arrange your trip to Europe. It doesn´t matter if you are going on a business trip, your dream driving holiday, or just want to try a Super Car for a day. We can help.
We offer a custom service. Delivery and collection of the car is offered at a location and time of you choosing. Airport, Hotel, Train Station, Private Villa, Marina, Home Address, it really doesn´t matter. We do the work, so you can simply enjoy renting one our our luxury cars. If you require Airport delivery, our driver will wait for you, holding a board with your name on it. They will then take you to the car and set you away, to enjoy your driving experience.
We offer cars all across Europe, with our main luxury fleets being available in Germany, Italy, France, Spain, Switzerland, United Kingdom, Portugal, Austria and Monaco. Major cities where we hold our cars include, Munich, Frankfurt, Berlin, Stuttgart, Milan, Rome, Florence, Naples, Venice, Bologna, Paris, Nice, St Tropez, Barcelona, Malaga, Marbella, Madrid, Valencia, Ibiza, Palma Mallorca, London, Porto, Lisbon, Faro, Vienna, Innsbruck, Monte Carlo. Can´t see your preferred location? Contact us and let us find a solution for you.
SUV / 4×4, Super Car, Sports Car, Executive Car, Luxury Minivan, Convertible Car or anything else, let us know what requirements you have and we will be happy to assist you.
We look forward to working with you!