1.400,00 € incl. VAT
POWER. STYLE. DRAMA
Experience the ultimate Grand Touring encounter, in a motor car born to the role. Restless in spirit and confident in style, Wraith was created for the modern-day seeker. Leave expectation behind. This is Wraith.
NEDC (combined): CO2 emission: 365-363 g/km; Fuel consumption: 17.7-17.8 mpg / 16.0-15.9 l/100km *. WLTP (combined): CO2 emission: 369-357 g/km; Fuel consumption: 17.3-17.9 mpg / 16.3-15.8 l/100km #
POTENCY AND PACE
Open the doors to thrilling performance. Wraith is alive with driver-centred responsiveness, its dynamic handling enhanced with pace. Every journey is an experience to excite even the most insatiable seeker.
DESIGNED TO BE DRIVEN
The Grand Tourer. Long associated with elegance, pace and beauty. Now with this new incarnation of Wraith, Rolls-Royce redefines the genre. Quite simply the most powerful Rolls-Royce ever created, this enigmatic motor car redefines the benchmark as the ultimate luxury GT.
THE WORLD'S MOST POWERFUL ROLLS-ROYCE
Propelled by a muscular engine, this is the most powerful series model to carry the Rolls-Royce name. Wraith delivers a truly remarkable, spirited drive unlike any other.
Description
Rolls Royce Wraith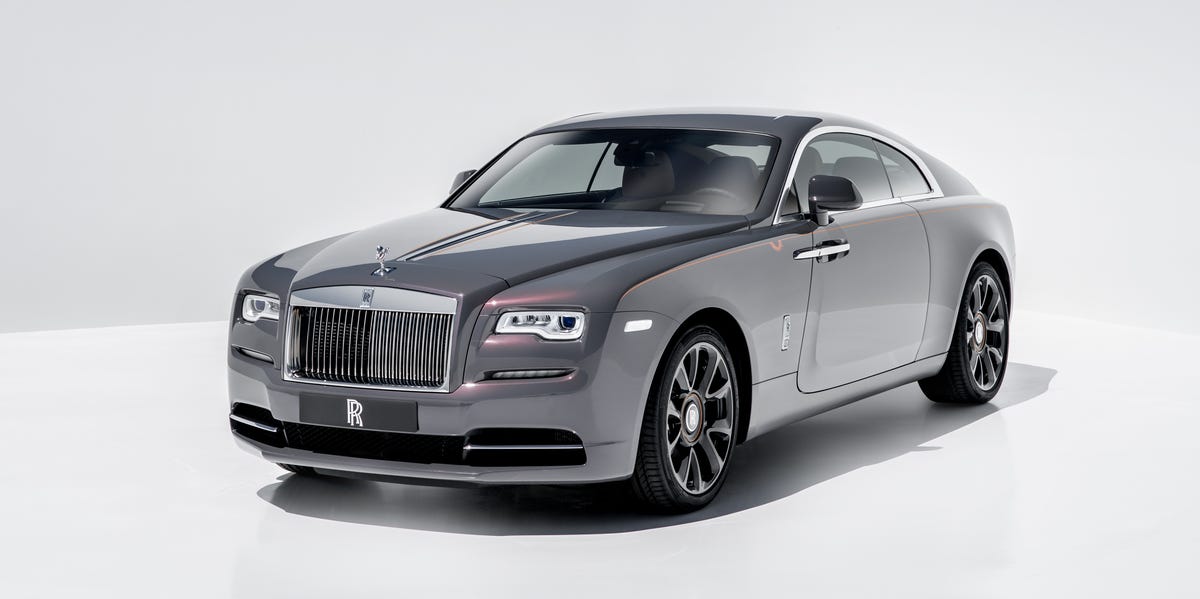 Rolls-Royce Wraith is surely one of the most alluring and remarkable cars on the road today. The closest that the luxury car manufacturer has ever come to creating a true supercar. The luxury car is one of the most powerful cars in the company's history. Fitted with an almighty 6.6-litre engine, the Wraith delivers 624 horsepower. He sprints from 0-100 Km/H in just 4.6 seconds. With a top speed of 299 Km/H. The Wraith is an exclusive and contemporary sports coupe. That takes the standard idea of a Rolls Royce, injects some sportiness and gives it a damn good shake.

The fastback, rear design creates a strikingly elegant silhouette, for a car that is blessed with athleticism. With its light steering and smooth ride, The luxury car makes driving a pleasure once again. Packed full of all of the clever technology you would expect from Rolls Royce, the Wraith includes Advanced Satellite Transmission which uses satellite navigation to predict the quality of the road ahead, enabling you to make smooth gear changes. With a nod to tradition, the car is expertly built by hand and fitted with a wealth of luxury finishes, such as natural leather upholstery, exquisite wooden paneling and thick woolen carpets.
You simply must rent the luxury car. Available across Europe, we recommend that you hire the car in Forte Dei Marmi. and take a coastal drive north, through La Spezia and San Remo. You passing into France and ending your trip in fabulous Cannes.

Brand
Europe Prestige Car Rent
Whether you´re looking for a luxury car rental for business or pleasure, we are here to help. With a wide range of cars, ranging from Super Cars to Executive Limousines, we have the luxury car hire, that you are looking for. With over 10 years experience in the luxury car hire industry, we understand our customers and their requirement for a straight forward, easy and effective service. At Europe Prestige Car Hire, we take pride in delivering exactly this.
Our passion, knowledge and drive to provide the best luxury car hire service in Europe, is what separates us from our competition. So whether you need to book a car fast, for the same day or you want to look at all of the available options, taking your time to decide on the right package for you, we will be with you every step of the way. This is what we enjoy. But our service doesn´t stop when you make the reservation, like with some companies. We are available at all times, to make sure your experience with us, is as good as it can possibly be.
If you are unsure which car you would like to book or where you would like to drive, contact us and we will be happy to assist you, in finding the best luxury car hire experience. Our cars are second to none and our service is top drawer. Let us use our experience to help you find your own, Europe Prestige Car Rent.
We offer the following prestige car brands in Europe: Aston Martin, Audi, Bentley, BMW, Ferrari, Lamborghini, Maserati, McLaren, Mercedes Benz, Porsche, Range Rover, Rolls Royce and many others besides.
Over the years, we have organised many car tours throughout Europe. Whether you need three or thirty cars, we have the experience and dedication, to organise a tour that suits your requirements. So if you are looking for a once in a lifetime, luxury car driving experience, contact us and we will be happy to help. Contact Europe Prestige Car Rent to arrange your trip to Europe. It doesn´t matter if you are going on a business trip, your dream driving holiday, or just want to try a Super Car for a day. We can help.
We offer a custom service. Delivery and collection of the car is offered at a location and time of you choosing. Airport, Hotel, Train Station, Private Villa, Marina, Home Address, it really doesn´t matter. We do the work, so you can simply enjoy renting one our our luxury cars. If you require Airport delivery, our driver will wait for you, holding a board with your name on it. They will then take you to the car and set you away, to enjoy your driving experience.
We offer cars all across Europe, with our main luxury fleets being available in Germany, Italy, France, Spain, Switzerland, United Kingdom, Portugal, Austria and Monaco. Major cities where we hold our cars include, Munich, Frankfurt, Berlin, Stuttgart, Milan, Rome, Florence, Naples, Venice, Bologna, Paris, Nice, St Tropez, Barcelona, Malaga, Marbella, Madrid, Valencia, Ibiza, Palma Mallorca, London, Porto, Lisbon, Faro, Vienna, Innsbruck, Monte Carlo. Can´t see your preferred location? Contact us and let us find a solution for you.
SUV / 4×4, Super Car, Sports Car, Executive Car, Luxury Minivan, Convertible Car or anything else, let us know what requirements you have and we will be happy to assist you.
We look forward to working with you!