1.450,00 € incl. VAT
Engine, Ride, and Handling
Under the hood is a 6.6-litre twin-turbocharged V-12 that makes 563 horsepower, so the Dawn is as fleet as it is sexy. At the test track, the Dawn rushed to 60 mph in just 4.3 seconds. He moves gracefully, albeit deliberately, and cossets its occupants when driving over even the harshest potholed roads. Even the eight-speed automatic transmission is tuned for tranquillity; it uses GPS to predict when and where it should change gears based on whether the car is going uphill or downhill or going around corners.
Description
Rolls Royce Dawn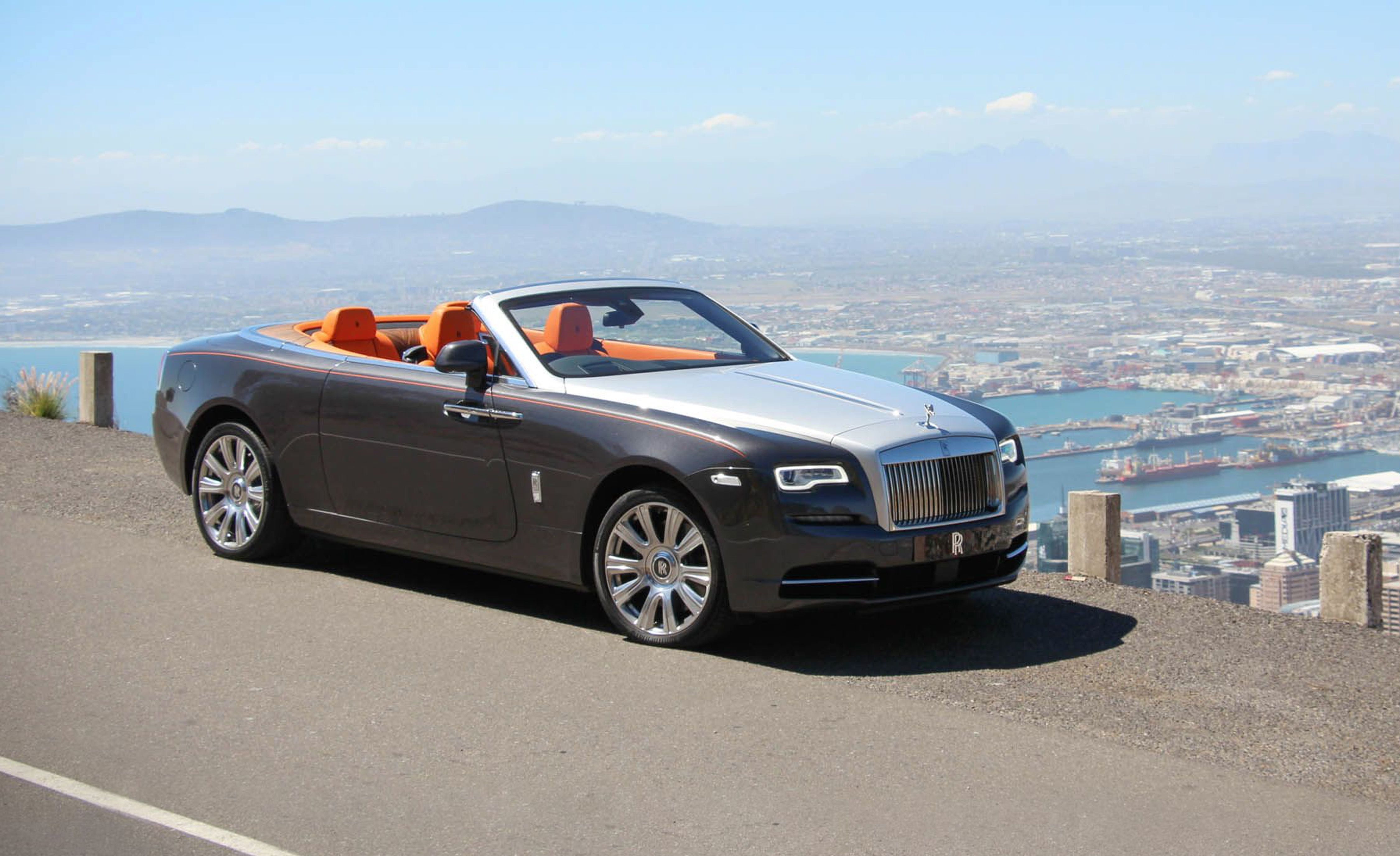 Rolls Royce Dawn will take you on an unforgettable open-top ride. The manufacturer claims to be the quietest open-top car claims. This claims not only by Rolls Royce. The Dawn name is derived from the Silver Dawn, a smaller model that was produced in the 1950s. The Dawn allows you to enjoy driving in a whole new way, as you glide along the roads of Europe in complete serenity. With a retractable, soft-top roof that even on the colder days of the year, you will stay lovely and warm in the super-insulated interior. The silence and serenity that creates by the closing mechanism even driving.
Look at the Dawn from every side, every angle, it will not disappoint as its elegance is consistent throughout. With a luxurious and spacious interior, the luxury vehicle will seat four adults comfortably. The long Rolls Royce style bonnet, with the unmistakable grill, stays faithful to the Rolls Royce heritage. The Dawn is perfection in comfort, prestige and craftsmanship, whilst the rear opening doors make it extremely easy to get in and out of this magnificent car.

Interior and Technology
Rear-hinged doors provide access to Dawn's cabin and inside, there is room for four adult passengers.The occupants will be dazzled by the gorgeous butter-soft leather and acres of real wood trim. Front-seats can be optioned with a massaging function. Thick, lambswool floormats pamper the tootsies of the lucky passengers. The Dawn isn't just about old-school luxury. It is a technological powerhouse. A suite of driver-assistance features is offered. The car includes a novel night-vision feature. This helps the driver after dark. Touchscreen infotainment is standard. Rolls-Royce offers the passengers a TV tuner.

Rent the Rolls Royce Dawn in the most prestigious location of them all; Monaco. Glide around the streets of Monte Carlo and in the best way possible with this most fashionable of cars. Hire the Rolls Royce Dawn in Venice and soak up the sun and luxury as you take an open top ride outside of the city limits.
Brand
Europe Prestige Car Rent
Whether you´re looking for a luxury car rental for business or pleasure, we are here to help. With a wide range of cars, ranging from Super Cars to Executive Limousines, we have the luxury car hire, that you are looking for. With over 10 years experience in the luxury car hire industry, we understand our customers and their requirement for a straight forward, easy and effective service. At Europe Prestige Car Hire, we take pride in delivering exactly this.
Our passion, knowledge and drive to provide the best luxury car hire service in Europe, is what separates us from our competition. So whether you need to book a car fast, for the same day or you want to look at all of the available options, taking your time to decide on the right package for you, we will be with you every step of the way. This is what we enjoy. But our service doesn´t stop when you make the reservation, like with some companies. We are available at all times, to make sure your experience with us, is as good as it can possibly be.
If you are unsure which car you would like to book or where you would like to drive, contact us and we will be happy to assist you, in finding the best luxury car hire experience. Our cars are second to none and our service is top drawer. Let us use our experience to help you find your own, Europe Prestige Car Rent.
We offer the following prestige car brands in Europe: Aston Martin, Audi, Bentley, BMW, Ferrari, Lamborghini, Maserati, McLaren, Mercedes Benz, Porsche, Range Rover, Rolls Royce and many others besides.
Over the years, we have organised many car tours throughout Europe. Whether you need three or thirty cars, we have the experience and dedication, to organise a tour that suits your requirements. So if you are looking for a once in a lifetime, luxury car driving experience, contact us and we will be happy to help. Contact Europe Prestige Car Rent to arrange your trip to Europe. It doesn´t matter if you are going on a business trip, your dream driving holiday, or just want to try a Super Car for a day. We can help.
We offer a custom service. Delivery and collection of the car is offered at a location and time of you choosing. Airport, Hotel, Train Station, Private Villa, Marina, Home Address, it really doesn´t matter. We do the work, so you can simply enjoy renting one our our luxury cars. If you require Airport delivery, our driver will wait for you, holding a board with your name on it. They will then take you to the car and set you away, to enjoy your driving experience.
We offer cars all across Europe, with our main luxury fleets being available in Germany, Italy, France, Spain, Switzerland, United Kingdom, Portugal, Austria and Monaco. Major cities where we hold our cars include, Munich, Frankfurt, Berlin, Stuttgart, Milan, Rome, Florence, Naples, Venice, Bologna, Paris, Nice, St Tropez, Barcelona, Malaga, Marbella, Madrid, Valencia, Ibiza, Palma Mallorca, London, Porto, Lisbon, Faro, Vienna, Innsbruck, Monte Carlo. Can´t see your preferred location? Contact us and let us find a solution for you.
SUV / 4×4, Super Car, Sports Car, Executive Car, Luxury Minivan, Convertible Car or anything else, let us know what requirements you have and we will be happy to assist you.
We look forward to working with you!