1.250,00 € incl. VAT
Supreme Liberty
This is freedom absolute. The first all-terrain SUV from Rolls-Royce makes luxury off-road travel a reality for the first time. Pinnacle luxury is now effortless, everywhere.
Diamond in the Rough
Whatever challenge your environment presents. Wherever you dare to go. Handle any adventure with absolute authority in the most capable Rolls-Royce ever created.
NEDCcorr (combined): CO2 emission: 330-328 g/km; Fuel consumption: 19.5 mpg / 14.5 l/100km * WLTP (combined): CO2 emission: 361-344 g/km; Fuel consumption: 17.8-18.6 mpg / 15.9-15.2 l/100km #
Description
Rolls Royce Cullinan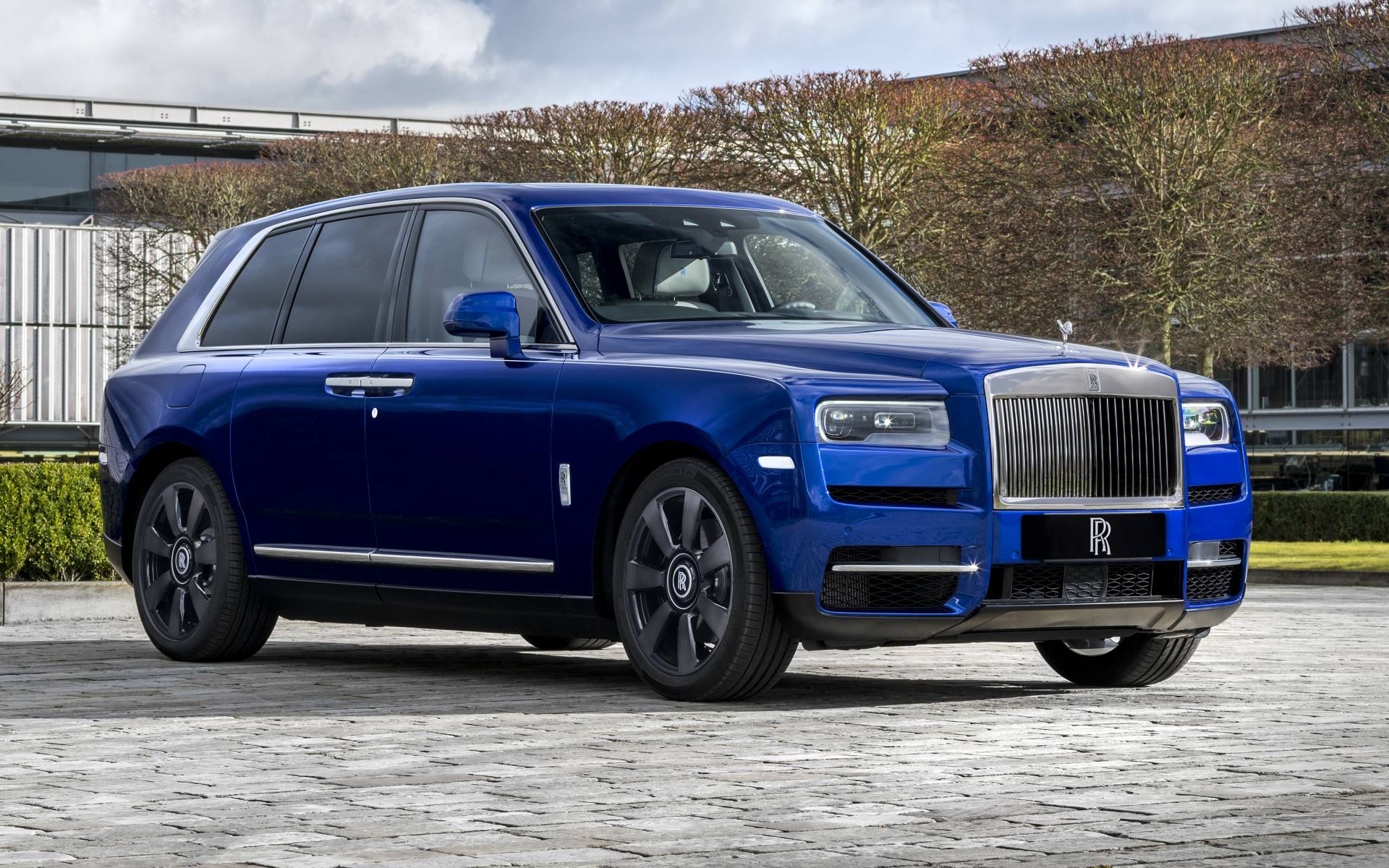 Rolls Royce Cullinan. The most capable ever created, Cullinan is a landmark exemplar of pinnacle motoring. Like its saloon sibling, the SUV, named appropriately after the world's largest raw diamond, found in South Africa over a century ago and now part of the Crown Jewels, comes with an eye-watering starting price.
Cullinan is a full-capability off-roader "able to do whatever a Range Rover can do". To stress Cullinan's breadth of capability, the Goodwood company has artfully leaked a selection of impressive YouTube clips showing. Prototypes tackling rough roads and huge dunes everywhere" to describe its capability.
Cullinan is Rolls-Royce's first SUV in 112 years. It is the company's first-ever 4×4. Cullinan's system is a latest-tech, electronically controlled, highly configurable permanent all-wheel drive set-up. This is only the second new Rolls to use the all-new, highly flexible "Architecture of Luxury" aluminium spaceframe introduced recently with the latest Phantom 8 limousine. This earmarked for every future luxury cars including the second-generation Ghost saloon, next to arrive after Cullinan.
A unique aluminium spaceframe underpins Cullinan, along with new Rolls-Royce chassis technology, to deliver the signature Rolls-Royce magic carpet ride. The driving experience is peerless, whatever the conditions, as you savour a luxury SUV journey of unparalleled comfort. In its current form, the Ghost saloon uses a BMW 7-series. Rolls bosses reckoned that was the best way to go. They have concluded that designing a versatile aluminium space that can support all designs. This is a far better way to meet Rolls-Royce's uncompromising requirements. In Cullinan, body rigidity is a particular feature.
Interior
Cullinan's interior is the usual paragon of Rolls quality and style. A hint of natural conservatism and an innate simplicity about the controls and instruments.
Brand
Europe Prestige Car Rent
Whether you´re looking for a luxury car rental for business or pleasure, we are here to help. With a wide range of cars, ranging from Super Cars to Executive Limousines, we have the luxury car hire, that you are looking for. With over 10 years experience in the luxury car hire industry, we understand our customers and their requirement for a straight forward, easy and effective service. At Europe Prestige Car Hire, we take pride in delivering exactly this.
Our passion, knowledge and drive to provide the best luxury car hire service in Europe, is what separates us from our competition. So whether you need to book a car fast, for the same day or you want to look at all of the available options, taking your time to decide on the right package for you, we will be with you every step of the way. This is what we enjoy. But our service doesn´t stop when you make the reservation, like with some companies. We are available at all times, to make sure your experience with us, is as good as it can possibly be.
If you are unsure which car you would like to book or where you would like to drive, contact us and we will be happy to assist you, in finding the best luxury car hire experience. Our cars are second to none and our service is top drawer. Let us use our experience to help you find your own, Europe Prestige Car Rent.
We offer the following prestige car brands in Europe: Aston Martin, Audi, Bentley, BMW, Ferrari, Lamborghini, Maserati, McLaren, Mercedes Benz, Porsche, Range Rover, Rolls Royce and many others besides.
Over the years, we have organised many car tours throughout Europe. Whether you need three or thirty cars, we have the experience and dedication, to organise a tour that suits your requirements. So if you are looking for a once in a lifetime, luxury car driving experience, contact us and we will be happy to help. Contact Europe Prestige Car Rent to arrange your trip to Europe. It doesn´t matter if you are going on a business trip, your dream driving holiday, or just want to try a Super Car for a day. We can help.
We offer a custom service. Delivery and collection of the car is offered at a location and time of you choosing. Airport, Hotel, Train Station, Private Villa, Marina, Home Address, it really doesn´t matter. We do the work, so you can simply enjoy renting one our our luxury cars. If you require Airport delivery, our driver will wait for you, holding a board with your name on it. They will then take you to the car and set you away, to enjoy your driving experience.
We offer cars all across Europe, with our main luxury fleets being available in Germany, Italy, France, Spain, Switzerland, United Kingdom, Portugal, Austria and Monaco. Major cities where we hold our cars include, Munich, Frankfurt, Berlin, Stuttgart, Milan, Rome, Florence, Naples, Venice, Bologna, Paris, Nice, St Tropez, Barcelona, Malaga, Marbella, Madrid, Valencia, Ibiza, Palma Mallorca, London, Porto, Lisbon, Faro, Vienna, Innsbruck, Monte Carlo. Can´t see your preferred location? Contact us and let us find a solution for you.
SUV / 4×4, Super Car, Sports Car, Executive Car, Luxury Minivan, Convertible Car or anything else, let us know what requirements you have and we will be happy to assist you.
We look forward to working with you!