295,00 € incl. VAT
Range Rover Evoque Convertible is loaded with full technology
For additional safety, the Range Rover Evoque Cabrio has an insertable rollover protection device, which is attached behind the rear seats and can be used in the event of an accident. The Range Rover Evoque also has a number of other safety features of the coupe and 5-door, including standard ABS brakes, roll stability control, trailer stability assistant, hill start assistant, electronic power steering (EPAS) and optional functions such as blind spot monitoring, reverse traffic detection closing The vehicle detection and much more.
"Convertible" and "SUV" are terms you don't normally hear used together, but the Range Rover Evoque Convertible isn't your normal vehicle. Combining sleek, sports car-like lines with Rover's legendary off-road prowess, it's designed to let you fully enjoy the remote locales it enables you to reach. Based on the Coupe model, the Convertible has only two doors, yet still offers room inside for four adults thanks to a cloth roof that folds down in just 18 seconds at speeds up to 29 mph. It's powered by your choice of diesel or gas engine creating up to 240hp, and with features like Terrain Response, 4WD, and Dynamic Stability Control, it's every bit as capable as you'd expect.
Description
Range Rover Evoque Convertible – Is Set To Drive
Range Rover Evoque Convertible is set to drive: The most stylish and cool Range Rover is now available as a convertible. This makes Range Rover Evoque the ideal choice for the driver who wants the prestige and glamour associated with driving a Range Rover but also wants to be able to drive around in the open air, normally reserved for cabriolets.
A more compact, crossover-type SUV, when compared with the Range Rover Sport or Vogue, but these has a more refined driving manner which appeals to the city drivers, whilst still holding a deep knowledge of how to perform off-road as well. Add the element of a soft top and the Car becomes a car that you will want to be seen in this summer.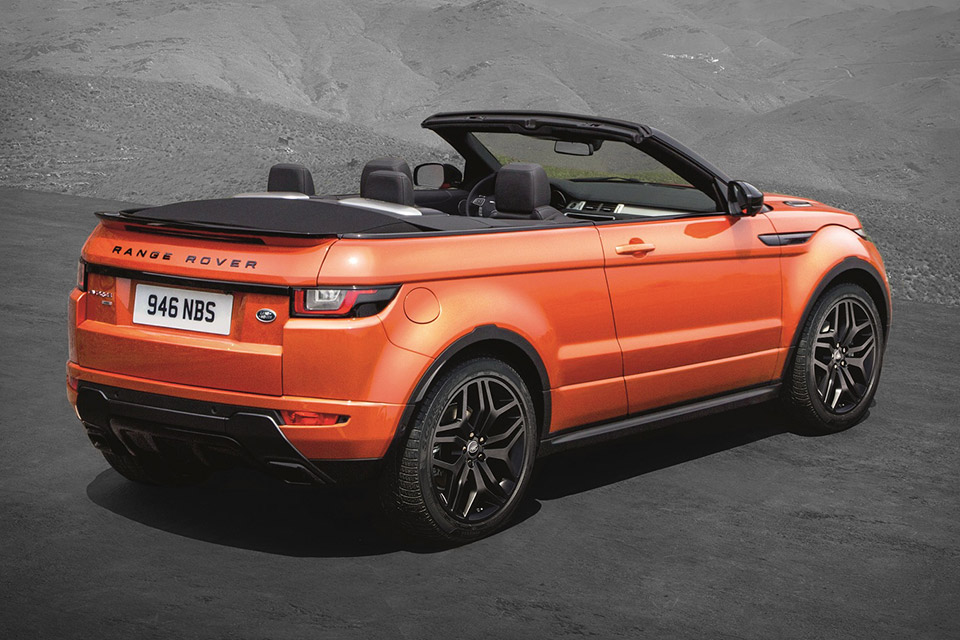 The Car looks stylish and elegant and is the epitome of cool. With a smaller compact engine, the Range Rover caters for the entry-level of SUV drivers but also the holiday goers. They love nothing more than to drop the roof back and go for a drive. Don´t be fooled into thinking that this is a gimmick, he is still a serious Range Rover. With these in tow, you´re guaranteed to turn heads.
Range Rover Evoque convertible will feature a fabric fixed-bow Z- Folding Convertible Roof System. The electrically operated roof is controlled via a Convertible Roof Switch mounted in the centre console. It takes 18 seconds to lower, 21 seconds to raise. At speeds of up to 30 mph can it to move. The roof system also incorporates an acoustic inner lining to reduce road noise and provide insulation. Rent the Range Rover Evoque Convertible in Ibiza. Small, compact and with a drop-top. You couldn´t design a more perfect vehicle for the party island. Hire the Car in Alicante and spend a week soaking up the sun, on Spain´s Costa Blanca.
Interior
Brand
Europe Prestige Car Rent
Whether you´re looking for a luxury car rental for business or pleasure, we are here to help. With a wide range of cars, ranging from Super Cars to Executive Limousines, we have the luxury car hire, that you are looking for. With over 10 years experience in the luxury car hire industry, we understand our customers and their requirement for a straight forward, easy and effective service. At Europe Prestige Car Hire, we take pride in delivering exactly this.
Our passion, knowledge and drive to provide the best luxury car hire service in Europe, is what separates us from our competition. So whether you need to book a car fast, for the same day or you want to look at all of the available options, taking your time to decide on the right package for you, we will be with you every step of the way. This is what we enjoy. But our service doesn´t stop when you make the reservation, like with some companies. We are available at all times, to make sure your experience with us, is as good as it can possibly be.
If you are unsure which car you would like to book or where you would like to drive, contact us and we will be happy to assist you, in finding the best luxury car hire experience. Our cars are second to none and our service is top drawer. Let us use our experience to help you find your own, Europe Prestige Car Rent.
We offer the following prestige car brands in Europe: Aston Martin, Audi, Bentley, BMW, Ferrari, Lamborghini, Maserati, McLaren, Mercedes Benz, Porsche, Range Rover, Rolls Royce and many others besides.
Over the years, we have organised many car tours throughout Europe. Whether you need three or thirty cars, we have the experience and dedication, to organise a tour that suits your requirements. So if you are looking for a once in a lifetime, luxury car driving experience, contact us and we will be happy to help. Contact Europe Prestige Car Rent to arrange your trip to Europe. It doesn´t matter if you are going on a business trip, your dream driving holiday, or just want to try a Super Car for a day. We can help.
We offer a custom service. Delivery and collection of the car is offered at a location and time of you choosing. Airport, Hotel, Train Station, Private Villa, Marina, Home Address, it really doesn´t matter. We do the work, so you can simply enjoy renting one our our luxury cars. If you require Airport delivery, our driver will wait for you, holding a board with your name on it. They will then take you to the car and set you away, to enjoy your driving experience.
We offer cars all across Europe, with our main luxury fleets being available in Germany, Italy, France, Spain, Switzerland, United Kingdom, Portugal, Austria and Monaco. Major cities where we hold our cars include, Munich, Frankfurt, Berlin, Stuttgart, Milan, Rome, Florence, Naples, Venice, Bologna, Paris, Nice, St Tropez, Barcelona, Malaga, Marbella, Madrid, Valencia, Ibiza, Palma Mallorca, London, Porto, Lisbon, Faro, Vienna, Innsbruck, Monte Carlo. Can´t see your preferred location? Contact us and let us find a solution for you.
SUV / 4×4, Super Car, Sports Car, Executive Car, Luxury Minivan, Convertible Car or anything else, let us know what requirements you have and we will be happy to assist you.
We look forward to working with you!