595,00 € incl. VAT
Highlights

The Mercedes-AMG GT 43 4MATIC+ 4-Door Coupé fully represents the design philosophy of AMG: sensual purity, striking proportions and a voluminous body.
More space, more power, more goosebumps – the new Mercedes-AMG GT 4-Door variant delivers new dimensions of driving results. It is clear to which performance family this sports car is attributed to. The motorsport DNA is in every fibre of the coupé and makes the four-door vehicle a pure-bred sports car.
With a highly attractive ratio of price to value the four-door sports car is also available with rear-wheel drive only.
The look, the technology, the features, and the customization options correspond to those of the more powerful six-cylinder version. (AMG GT 43: Fuel consumption combined: 8.5 l – 8.3 l/100 km | CO2 emission combined: 194 – 189 g/km | Emission Statement [1])
Description
Mercedes GT43 AMG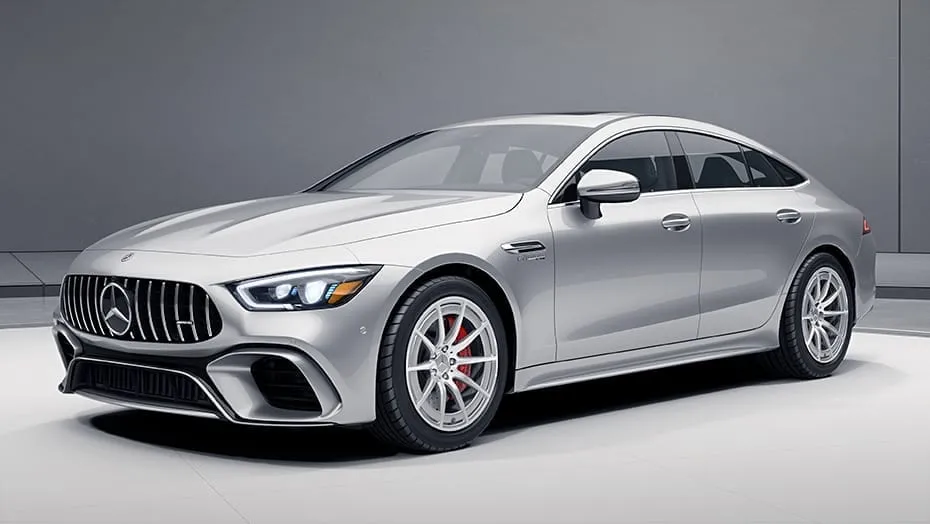 Mercedes GT43 AMG. Unexpectedly versatile, unmistakably AMG GT. The Mercedes-4MATIC+ 4-Door Coupé. The new 4-Door Coupé combines impressive sports car performance with the suitability for everyday use of an elegant four-door. Expressive design with the deep-drawn bonnet. Dominant front and muscular body language emphasise the sporty genes of the four-door coupé. One press of the start button confirms: the Mercedes-AMG GT 53 4MATIC+ 4-Door Coupé belongs to the top of the pack. Thanks to the innovative and highly efficient, in-line, 6-cylinder engine producing 270 kW (367 hp), active aerodynamics and the AMG SPEEDSHIFT TCT 9-speed transmission this is possible from the outset.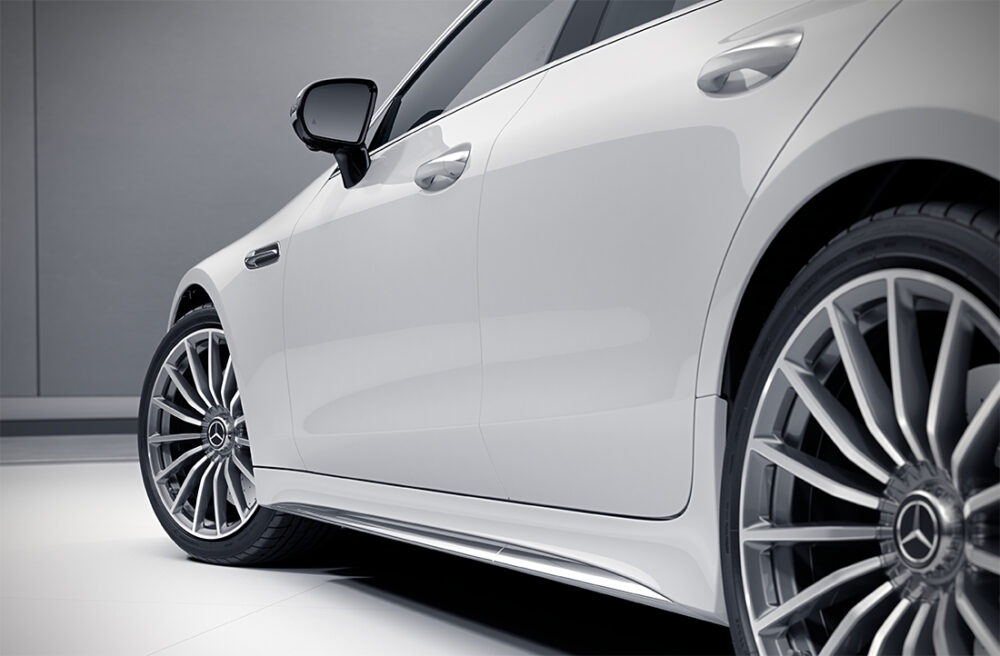 Interior
The cockpit convinces with extremely high-grade materials and production quality. The new AMG fragrance delivers additional performance for your senses. Thanks to the new auxiliary switches on the AMG Performance steering wheel in Nappa leather you are firmly in control of everything: change various parameters of your sports car and configure your personal setup. …
Thanks to the individually configurable instrument cluster and the central media display with a 12.3-inch colour display you always have all relevant information at hand. New and unique. Eight display buttons that have been integrated into the centre console and a switch element in the operating panel
Create an emotional bond, a vehicle becomes your vehicle. The extended MBUX functions can be fully attuned to you. Say "Hey Mercedes", and your MBUX system awaits your commands. Personal profiles, predictive functions and a WiFi hotspot completely redefine the term digital networking.
MBUX Interior Assistant
Enjoy contactless ease of operation: this innovative system detects and interprets your hand and arm movements. This means you can activate selected functions in a matter of seconds. The system is able to differentiate between a driver and front passenger.

MBUX augmented reality for navigation
To enable you to find your way in complex traffic situations, MBUX Augmented Reality Navigation connects the virtual world with the real world. The technology incorporates graphical navigation instructions and traffic information into live images.

Brand
Europe Prestige Car Rent
Whether you´re looking for a luxury car rental for business or pleasure, we are here to help. With a wide range of cars, ranging from Super Cars to Executive Limousines, we have the luxury car hire, that you are looking for. With over 10 years experience in the luxury car hire industry, we understand our customers and their requirement for a straight forward, easy and effective service. At Europe Prestige Car Hire, we take pride in delivering exactly this.
Our passion, knowledge and drive to provide the best luxury car hire service in Europe, is what separates us from our competition. So whether you need to book a car fast, for the same day or you want to look at all of the available options, taking your time to decide on the right package for you, we will be with you every step of the way. This is what we enjoy. But our service doesn´t stop when you make the reservation, like with some companies. We are available at all times, to make sure your experience with us, is as good as it can possibly be.
If you are unsure which car you would like to book or where you would like to drive, contact us and we will be happy to assist you, in finding the best luxury car hire experience. Our cars are second to none and our service is top drawer. Let us use our experience to help you find your own, Europe Prestige Car Rent.
We offer the following prestige car brands in Europe: Aston Martin, Audi, Bentley, BMW, Ferrari, Lamborghini, Maserati, McLaren, Mercedes Benz, Porsche, Range Rover, Rolls Royce and many others besides.
Over the years, we have organised many car tours throughout Europe. Whether you need three or thirty cars, we have the experience and dedication, to organise a tour that suits your requirements. So if you are looking for a once in a lifetime, luxury car driving experience, contact us and we will be happy to help. Contact Europe Prestige Car Rent to arrange your trip to Europe. It doesn´t matter if you are going on a business trip, your dream driving holiday, or just want to try a Super Car for a day. We can help.
We offer a custom service. Delivery and collection of the car is offered at a location and time of you choosing. Airport, Hotel, Train Station, Private Villa, Marina, Home Address, it really doesn´t matter. We do the work, so you can simply enjoy renting one our our luxury cars. If you require Airport delivery, our driver will wait for you, holding a board with your name on it. They will then take you to the car and set you away, to enjoy your driving experience.
We offer cars all across Europe, with our main luxury fleets being available in Germany, Italy, France, Spain, Switzerland, United Kingdom, Portugal, Austria and Monaco. Major cities where we hold our cars include, Munich, Frankfurt, Berlin, Stuttgart, Milan, Rome, Florence, Naples, Venice, Bologna, Paris, Nice, St Tropez, Barcelona, Malaga, Marbella, Madrid, Valencia, Ibiza, Palma Mallorca, London, Porto, Lisbon, Faro, Vienna, Innsbruck, Monte Carlo. Can´t see your preferred location? Contact us and let us find a solution for you.
SUV / 4×4, Super Car, Sports Car, Executive Car, Luxury Minivan, Convertible Car or anything else, let us know what requirements you have and we will be happy to assist you.
We look forward to working with you!