650,00 € incl. VAT
Also, open emotionally upwards
The Mercedes-AMG GT Roadster is a pure driving pleasure for all the senses. This experience is only further enhanced by the three additional model variants AMG GT S, AMG GT C and AMG GT R. With very different designs, engines and chassis. What unites everyone: the urge to move forward and the unique feeling of open-top driving.
Discover breathtaking sports car design
The Mercedes-AMG GT Roadster: in top athletic form both inside and out.
Performance, straight from the racetrack
The Mercedes-AMG GT Roadster: exclusive roadster feeling and pure driving pleasure for two people.
Performance highlights
AMG SPEEDSHIFT DCT 7G

AMG 4.0-liter V8 Biturbo engine




intelligent lightweight construction with aluminium spaceframe construction

AMG ceramic high-performance composite brake system
Description
Mercedes GT AMG Roadster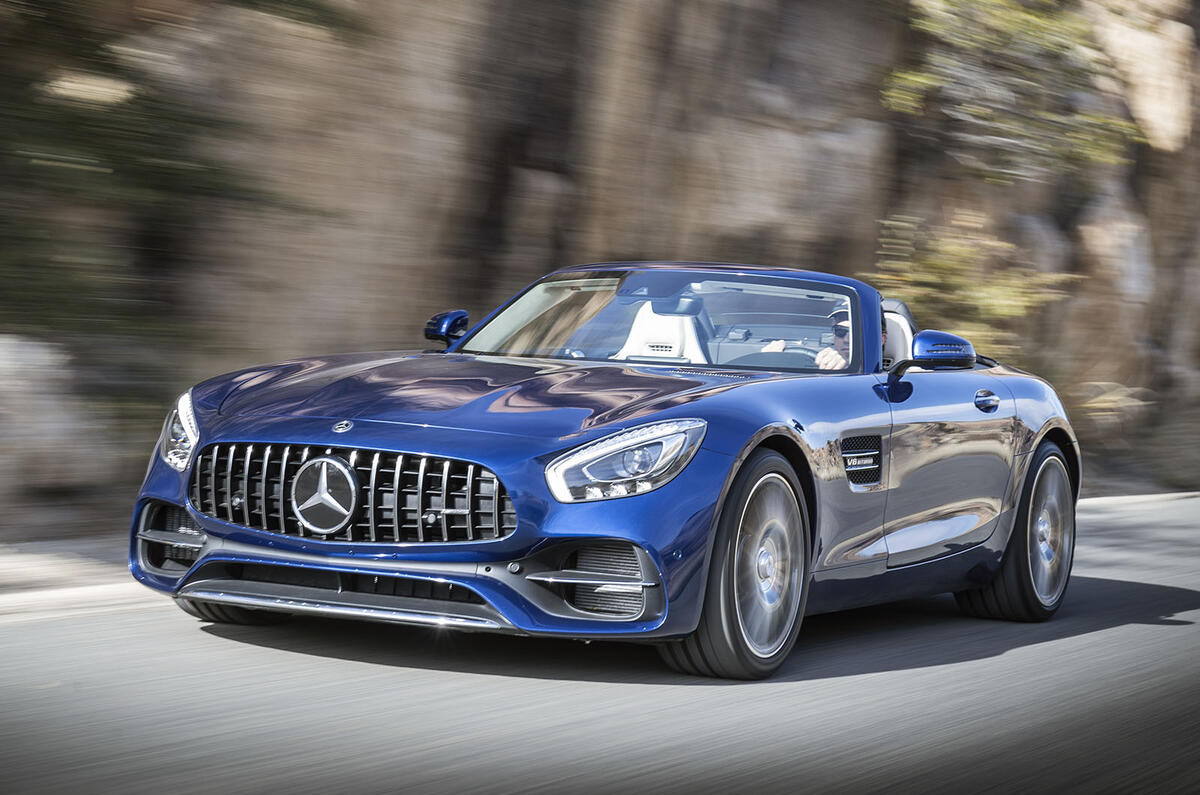 Mercedes GT AMG Roadster. How do you make this car even more fun? Make a convertible version, that´s how! With elongated bonnet, the Mercedes Benz GT AMG Convertible is a worthy successor to the stunning SLS AMG.
With an aerodynamically, slicked back roofline, edgy, the side and a fearsome front grill, it is impossible to resist the allure of the super sportscar. The car, you can enjoy the very best of what Mercedes Benz has to offer. The GT AMG Convertible is a simply dazzling sports car, that will excite and thrill you on every single journey.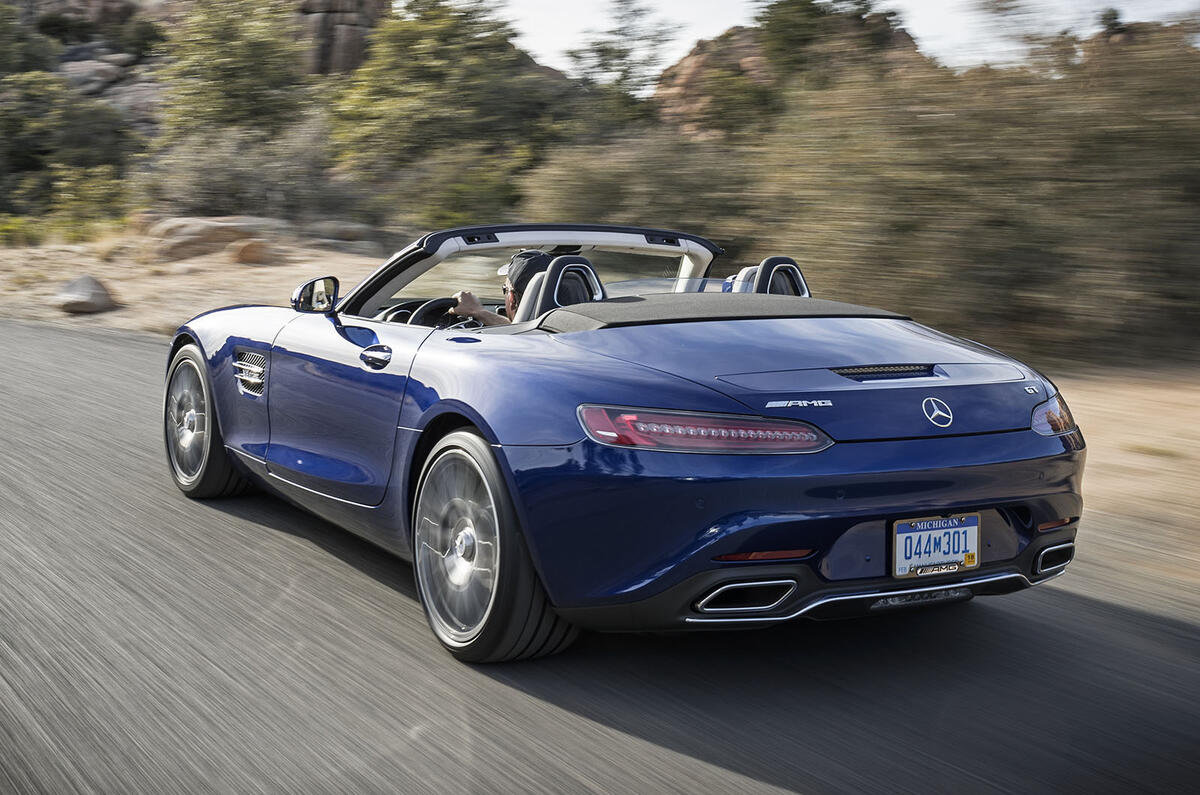 With the same engine as the G63 AMG but a lighter and more aerodynamic body sat on top, the Mercedes Benz GTS AMG is capable of reaching 100 Km/H in 4.0 seconds and will then continue on to a top speed of 301 Km/H. The supercar continues this most unique design stance. The Convertible, like the SLS before it, is easily recognisable and hugely pleasing on the eye. Inside will make you feel like you´re sat in the cockpit of a plane. This is inspired by aviation. The Mercedes Benz GT AMG Convertible is beautifully balanced. He provides you with excellent handling and extraordinary acceleration on every drive.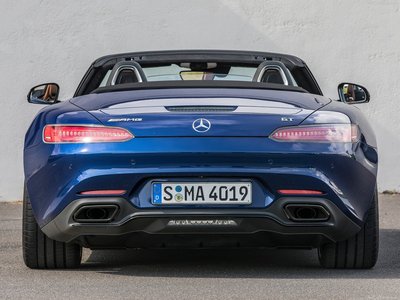 Rent the Mercedes car Convertible in Verona. Heading south through the Italian countryside to explore the stunning principality of San Marino. The GT AMG Convertible is available to hire throughout Europe including in locations such as Toulouse, Zaragoza, Nuremberg and Zagreb.
Interior
The interior in and around the centre console is covered with rare leathers and excellent blue highlights. Although prices will surely go up, we recommend this car to people who can take care of it. Wonderful!
Brand
Europe Prestige Car Rent
Whether you´re looking for a luxury car rental for business or pleasure, we are here to help. With a wide range of cars, ranging from Super Cars to Executive Limousines, we have the luxury car hire, that you are looking for. With over 10 years experience in the luxury car hire industry, we understand our customers and their requirement for a straight forward, easy and effective service. At Europe Prestige Car Hire, we take pride in delivering exactly this.
Our passion, knowledge and drive to provide the best luxury car hire service in Europe, is what separates us from our competition. So whether you need to book a car fast, for the same day or you want to look at all of the available options, taking your time to decide on the right package for you, we will be with you every step of the way. This is what we enjoy. But our service doesn´t stop when you make the reservation, like with some companies. We are available at all times, to make sure your experience with us, is as good as it can possibly be.
If you are unsure which car you would like to book or where you would like to drive, contact us and we will be happy to assist you, in finding the best luxury car hire experience. Our cars are second to none and our service is top drawer. Let us use our experience to help you find your own, Europe Prestige Car Rent.
We offer the following prestige car brands in Europe: Aston Martin, Audi, Bentley, BMW, Ferrari, Lamborghini, Maserati, McLaren, Mercedes Benz, Porsche, Range Rover, Rolls Royce and many others besides.
Over the years, we have organised many car tours throughout Europe. Whether you need three or thirty cars, we have the experience and dedication, to organise a tour that suits your requirements. So if you are looking for a once in a lifetime, luxury car driving experience, contact us and we will be happy to help. Contact Europe Prestige Car Rent to arrange your trip to Europe. It doesn´t matter if you are going on a business trip, your dream driving holiday, or just want to try a Super Car for a day. We can help.
We offer a custom service. Delivery and collection of the car is offered at a location and time of you choosing. Airport, Hotel, Train Station, Private Villa, Marina, Home Address, it really doesn´t matter. We do the work, so you can simply enjoy renting one our our luxury cars. If you require Airport delivery, our driver will wait for you, holding a board with your name on it. They will then take you to the car and set you away, to enjoy your driving experience.
We offer cars all across Europe, with our main luxury fleets being available in Germany, Italy, France, Spain, Switzerland, United Kingdom, Portugal, Austria and Monaco. Major cities where we hold our cars include, Munich, Frankfurt, Berlin, Stuttgart, Milan, Rome, Florence, Naples, Venice, Bologna, Paris, Nice, St Tropez, Barcelona, Malaga, Marbella, Madrid, Valencia, Ibiza, Palma Mallorca, London, Porto, Lisbon, Faro, Vienna, Innsbruck, Monte Carlo. Can´t see your preferred location? Contact us and let us find a solution for you.
SUV / 4×4, Super Car, Sports Car, Executive Car, Luxury Minivan, Convertible Car or anything else, let us know what requirements you have and we will be happy to assist you.
We look forward to working with you!