275,00 € incl. VAT
Highlights
A strong character with completely new facets. A fascinating new cockpit, and even more striking SUV design and maximum driving comfort await you.
Defined, redefined
The GLC radiates an even more typical SUV presence without being intrusive. A symbol of modern luxury. New highlights are the front with standard LED high- performance headlights and redesigned tailpipe trims at the rear.
The GLC: understands your language.

Recognize your gestures.
About a completely new way of operating an automobile. Easy. Intuitive. With your words, touches and gestures. That is MBUX, the new Mercedes-Benz User Experience.
Comfort highlights:
MBUX touch operating concept

MBUX voice control

Head-Up Display

Wireless charging

Smartphone integration
Description
Mercedes GLC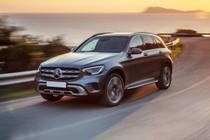 Mercedes GLC. Planning to rent a small SUV / crossover? Let yourself be amazed by this luxury car. With all of the luxury touches, you expect from the Swabian car manufacturer. The GLC is a fantastic choice for a city break or for the rougher terrain. The Swabians are not only building a stunning car to look at but with its heightened suspension, it will also give you a smooth ride, on any surface.
Inside, you will find the cabin of the Swabian GLC to be spacious and comfortable, whilst also offering cutting edge technology. This is a Mercedes after all. Your rear-seated passengers can enjoy the gazing at the sky, courtesy of the panoramic glass roof, whilst the driver gets to enjoy the performance, which includes a 0 to 100 Km/H time of 7.6 seconds. Not bad for an SUV.
Treat your eyes to something special
Sovereign and powerful like never before, the new GLC now radiates even more SUV-typical dominance without imposing itself on it. Modern luxury cannot be expressed more clearly and sensually.
Welcome to the new GLC.
The interior welcomes you generously and with quality. Here everything follows a higher goal: to make your time as pleasant and easy as possible. As fascinatingly modern and intelligent as never before.
Rent the Mercedes Benz GLC throughout Europe, in locations such as Milan, Innsbruck, Frankfurt, Lyon and Malaga. Wherever you decide to hire the Mercedes Benz GLC, you´re sure to enjoy a fabulous drive and be back to enjoy it again in the future.
Brand
Europe Prestige Car Rent
Whether you´re looking for a luxury car rental for business or pleasure, we are here to help. With a wide range of cars, ranging from Super Cars to Executive Limousines, we have the luxury car hire, that you are looking for. With over 10 years experience in the luxury car hire industry, we understand our customers and their requirement for a straight forward, easy and effective service. At Europe Prestige Car Hire, we take pride in delivering exactly this.
Our passion, knowledge and drive to provide the best luxury car hire service in Europe, is what separates us from our competition. So whether you need to book a car fast, for the same day or you want to look at all of the available options, taking your time to decide on the right package for you, we will be with you every step of the way. This is what we enjoy. But our service doesn´t stop when you make the reservation, like with some companies. We are available at all times, to make sure your experience with us, is as good as it can possibly be.
If you are unsure which car you would like to book or where you would like to drive, contact us and we will be happy to assist you, in finding the best luxury car hire experience. Our cars are second to none and our service is top drawer. Let us use our experience to help you find your own, Europe Prestige Car Rent.
We offer the following prestige car brands in Europe: Aston Martin, Audi, Bentley, BMW, Ferrari, Lamborghini, Maserati, McLaren, Mercedes Benz, Porsche, Range Rover, Rolls Royce and many others besides.
Over the years, we have organised many car tours throughout Europe. Whether you need three or thirty cars, we have the experience and dedication, to organise a tour that suits your requirements. So if you are looking for a once in a lifetime, luxury car driving experience, contact us and we will be happy to help. Contact Europe Prestige Car Rent to arrange your trip to Europe. It doesn´t matter if you are going on a business trip, your dream driving holiday, or just want to try a Super Car for a day. We can help.
We offer a custom service. Delivery and collection of the car is offered at a location and time of you choosing. Airport, Hotel, Train Station, Private Villa, Marina, Home Address, it really doesn´t matter. We do the work, so you can simply enjoy renting one our our luxury cars. If you require Airport delivery, our driver will wait for you, holding a board with your name on it. They will then take you to the car and set you away, to enjoy your driving experience.
We offer cars all across Europe, with our main luxury fleets being available in Germany, Italy, France, Spain, Switzerland, United Kingdom, Portugal, Austria and Monaco. Major cities where we hold our cars include, Munich, Frankfurt, Berlin, Stuttgart, Milan, Rome, Florence, Naples, Venice, Bologna, Paris, Nice, St Tropez, Barcelona, Malaga, Marbella, Madrid, Valencia, Ibiza, Palma Mallorca, London, Porto, Lisbon, Faro, Vienna, Innsbruck, Monte Carlo. Can´t see your preferred location? Contact us and let us find a solution for you.
SUV / 4×4, Super Car, Sports Car, Executive Car, Luxury Minivan, Convertible Car or anything else, let us know what requirements you have and we will be happy to assist you.
We look forward to working with you!