650,00 € incl. VAT
AMG Bodystyling
The AMG body-styling lends the vehicle its unmistakable character, comprising AMG-specific front apron and radiator trim, trim insert in the exterior protective strip, AMG wheels plus AMG flared wheel arches, striking side pipes and red-painted brake callipers.
Wherever the Mercedes-AMG G 63 shows its face, it is met with nothing but awe. Its passion, perfection and power make every journey feel like a victory.
AMG Light-Alloy Wheels
Light-alloy wheels in a striking, powerful design. 50.8 cm (20-inch) AMG 10-spoke light-alloy wheels painted in titanium grey and with a high-sheen finish, with 275/50 R 20 tyres on 9.5 J x 20 ET35 wheels, spare wheel on a tailgate with 265/50 R 20 tyre.
The numerous features like the AMG-specific radiator grille and 22-inch wheels lend this legendary figure its extrovert outward appearance.
"V8 BITURBO" lettering
True power lurks within. The elegantly integrated "V8 Biturbo" lettering on the vehicle flanks is a visible sign of the essence at the heart of every AMG.
AMG Radiator Trim
The AMG radiator trim impresses with vertical louvres and a central star in high-gloss chrome. As such, the Mercedes-AMG G 63 differs significantly from the entry-level model in that the dynamic character of the vehicle is brought to the fore.
Description
Mercedes G63 AMG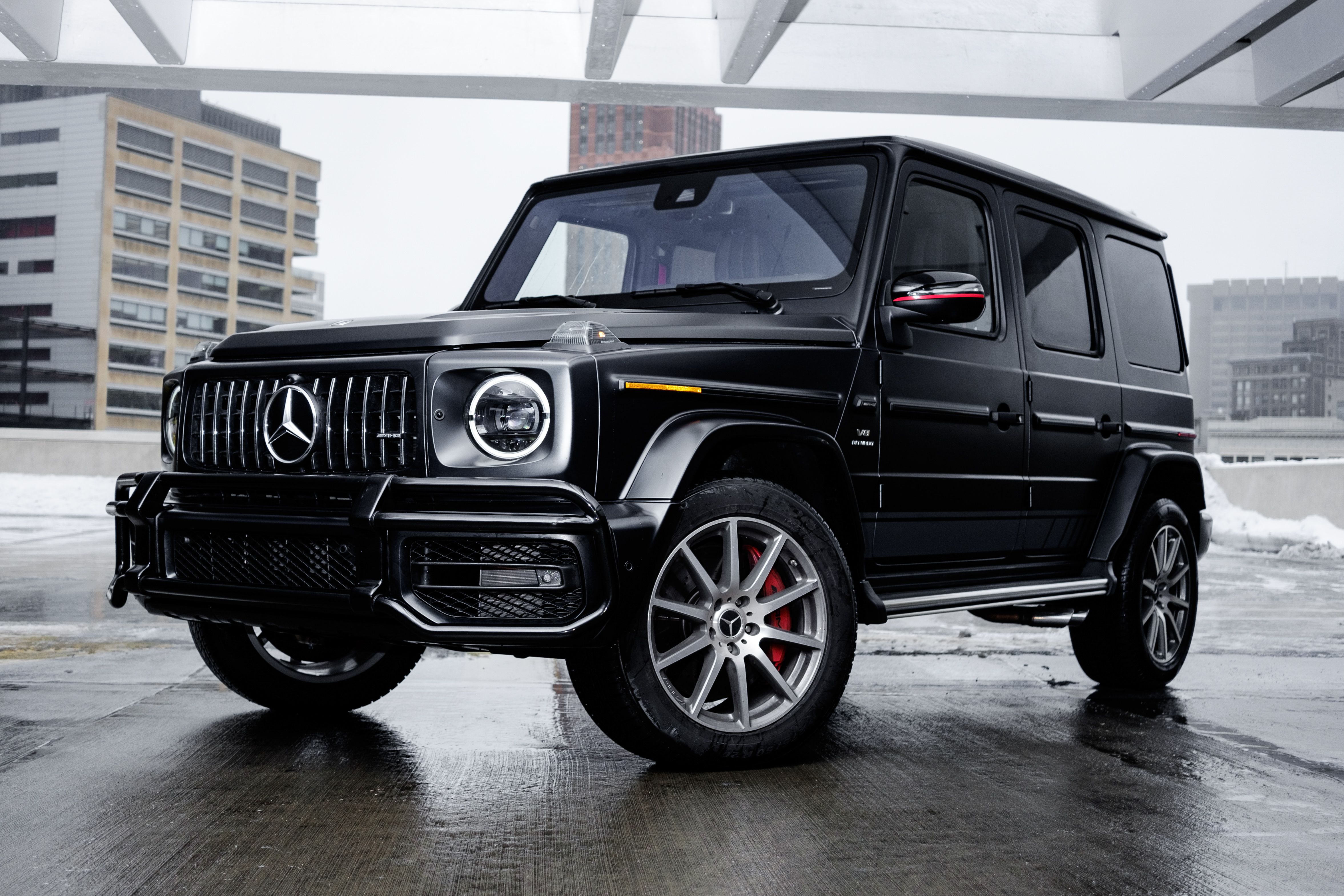 Mercedes G63 AMG. Unleash the beast inside. Redesigned, refined and improved, the all-new 2019 model G63 AMG. Looks even imposing on the road than the previous model. This is the ultimate all-terrain vehicle. Originally based upon a vehicle used by the Australian army, the car combines the ruggedness of an off-road SUV, with the luxury, prestige and finesse. you expect from Mercedes Benz, to create a truly unique and incredible piece of architecture. The car, with its impressive performance credentials, luxury touches and beastly design, is the ultimate SUV.
It is impossible to ignore a Mercedes Benz G63 AMG when it drives past. Huge alloy wheels, chrome finishes, meaty bumpers and an imposing new front-end design, make the supercar the king of the road. All of this ruggedness and beauty is perched on top of Mercedes´ new 4.0 litre, turbocharged engine. This produces a stunning 577 horsepower. Despite the weight and size of that the sheer power it can get from 0-100 Km/H in an extraordinary time of just 4.5 seconds. You will not find any other SUV that offers such levels of comfort, prestige and power.
Rent this car in Tuscany and take on the tough, country terrain in an SUV that is sure to dominate it all with ease. Hire the G63 AMG in Monaco, the most prestigious location of them all. You will fit in, with the Mercedes Benz G63 AMG.
Brand
Europe Prestige Car Rent
Whether you´re looking for a luxury car rental for business or pleasure, we are here to help. With a wide range of cars, ranging from Super Cars to Executive Limousines, we have the luxury car hire, that you are looking for. With over 10 years experience in the luxury car hire industry, we understand our customers and their requirement for a straight forward, easy and effective service. At Europe Prestige Car Hire, we take pride in delivering exactly this.
Our passion, knowledge and drive to provide the best luxury car hire service in Europe, is what separates us from our competition. So whether you need to book a car fast, for the same day or you want to look at all of the available options, taking your time to decide on the right package for you, we will be with you every step of the way. This is what we enjoy. But our service doesn´t stop when you make the reservation, like with some companies. We are available at all times, to make sure your experience with us, is as good as it can possibly be.
If you are unsure which car you would like to book or where you would like to drive, contact us and we will be happy to assist you, in finding the best luxury car hire experience. Our cars are second to none and our service is top drawer. Let us use our experience to help you find your own, Europe Prestige Car Rent.
We offer the following prestige car brands in Europe: Aston Martin, Audi, Bentley, BMW, Ferrari, Lamborghini, Maserati, McLaren, Mercedes Benz, Porsche, Range Rover, Rolls Royce and many others besides.
Over the years, we have organised many car tours throughout Europe. Whether you need three or thirty cars, we have the experience and dedication, to organise a tour that suits your requirements. So if you are looking for a once in a lifetime, luxury car driving experience, contact us and we will be happy to help. Contact Europe Prestige Car Rent to arrange your trip to Europe. It doesn´t matter if you are going on a business trip, your dream driving holiday, or just want to try a Super Car for a day. We can help.
We offer a custom service. Delivery and collection of the car is offered at a location and time of you choosing. Airport, Hotel, Train Station, Private Villa, Marina, Home Address, it really doesn´t matter. We do the work, so you can simply enjoy renting one our our luxury cars. If you require Airport delivery, our driver will wait for you, holding a board with your name on it. They will then take you to the car and set you away, to enjoy your driving experience.
We offer cars all across Europe, with our main luxury fleets being available in Germany, Italy, France, Spain, Switzerland, United Kingdom, Portugal, Austria and Monaco. Major cities where we hold our cars include, Munich, Frankfurt, Berlin, Stuttgart, Milan, Rome, Florence, Naples, Venice, Bologna, Paris, Nice, St Tropez, Barcelona, Malaga, Marbella, Madrid, Valencia, Ibiza, Palma Mallorca, London, Porto, Lisbon, Faro, Vienna, Innsbruck, Monte Carlo. Can´t see your preferred location? Contact us and let us find a solution for you.
SUV / 4×4, Super Car, Sports Car, Executive Car, Luxury Minivan, Convertible Car or anything else, let us know what requirements you have and we will be happy to assist you.
We look forward to working with you!