395,00 € incl. VAT
NEW HORIZONS IN SPORTY

HANDLING AND SAFETY
From the very outset, Maserati's aim for the Ghibli was to produce a car that delivered the very highest levels of driving enjoyment on an everyday basis, whatever the road conditions.
The Ghibli S Q4 – powered by the same 3-litre V6 Twin Turbo used in the rear-wheel-drive Ghibli S – successfully achieves this objective, thanks to its innovative 'on-demand' Q4 All-Wheel Drive system.
The Q4 system, introduced for the first time on the latest version of the Maserati Quattroporte, is compact, lightweight and highly efficient. It is controlled electronically via a special algorithm that monitors many of the car's dynamic parameters and then varies the distribution of drive torque over the four wheels.
Description
Maserati Ghibli
Maserati Ghibli is the smaller sibling to the Quattroporte. The Supercar has a sports pedigree and devilish exterior looks. Renting the car often become an irresistible temptation. The Supercar has a dynamic feel to match its innovative technology, LED lighting and clever suspension. The design work of the Ghibli is skillfully paired with the front LED lights. This gives the car a daring look. An athletic build, the famed Maserati grille and exhaust tailpipes finish off the sporty look of this car.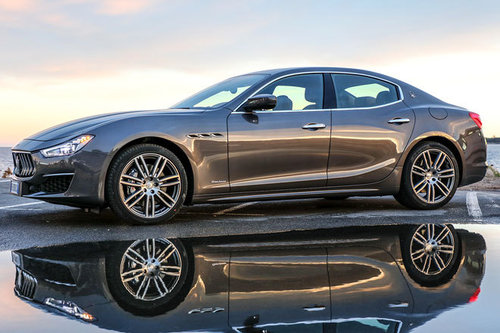 As Maserati's first-ever diesel-engined car. The Ghibli is quickly becoming accustomed to breaking pre-held conceptions and expectations. Under the perfectly crafted bonnet, sits an innovative 3 litre, V6 engine that incorporates the latest technology. Over 300 horsepower and a top speed of 250 Km/H. If you need a slightly more compact and luxurious sedan, this car is for you.
Interior
The Ghibli accommodates its passengers in a luxurious, comfortable interior. Without detracting from the loveliness of the car's lines. The long-wheelbase provides occupants with one of the roomiest interiors in the sports sedan category. The seats, upholstered in soft leather, have wraparound form. The underline the interior's sporty feel while guaranteeing top-class comfort.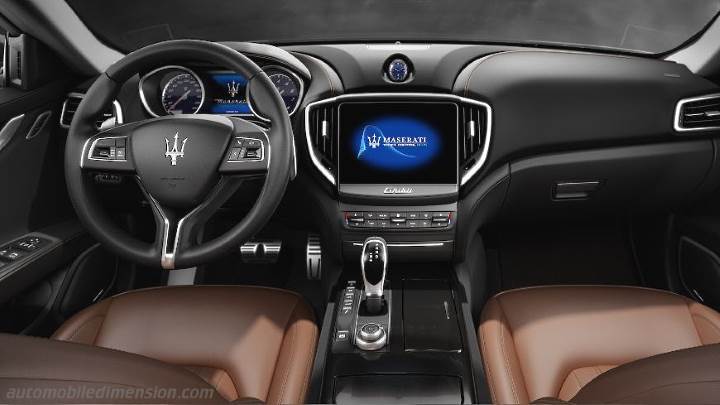 Rent the Maserati Ghibli for a comforting, luxury drive through Germany. Start in Leipzig and taking in Hamburg and Dusseldorf, on your way to Cologne. Hire the car in multiple locations, including Bari, Rome, Malaga, Vienna and Porto.
Brand
Europe Prestige Car Rent
Whether you´re looking for a luxury car rental for business or pleasure, we are here to help. With a wide range of cars, ranging from Super Cars to Executive Limousines, we have the luxury car hire, that you are looking for. With over 10 years experience in the luxury car hire industry, we understand our customers and their requirement for a straight forward, easy and effective service. At Europe Prestige Car Hire, we take pride in delivering exactly this.
Our passion, knowledge and drive to provide the best luxury car hire service in Europe, is what separates us from our competition. So whether you need to book a car fast, for the same day or you want to look at all of the available options, taking your time to decide on the right package for you, we will be with you every step of the way. This is what we enjoy. But our service doesn´t stop when you make the reservation, like with some companies. We are available at all times, to make sure your experience with us, is as good as it can possibly be.
If you are unsure which car you would like to book or where you would like to drive, contact us and we will be happy to assist you, in finding the best luxury car hire experience. Our cars are second to none and our service is top drawer. Let us use our experience to help you find your own, Europe Prestige Car Rent.
We offer the following prestige car brands in Europe: Aston Martin, Audi, Bentley, BMW, Ferrari, Lamborghini, Maserati, McLaren, Mercedes Benz, Porsche, Range Rover, Rolls Royce and many others besides.
Over the years, we have organised many car tours throughout Europe. Whether you need three or thirty cars, we have the experience and dedication, to organise a tour that suits your requirements. So if you are looking for a once in a lifetime, luxury car driving experience, contact us and we will be happy to help. Contact Europe Prestige Car Rent to arrange your trip to Europe. It doesn´t matter if you are going on a business trip, your dream driving holiday, or just want to try a Super Car for a day. We can help.
We offer a custom service. Delivery and collection of the car is offered at a location and time of you choosing. Airport, Hotel, Train Station, Private Villa, Marina, Home Address, it really doesn´t matter. We do the work, so you can simply enjoy renting one our our luxury cars. If you require Airport delivery, our driver will wait for you, holding a board with your name on it. They will then take you to the car and set you away, to enjoy your driving experience.
We offer cars all across Europe, with our main luxury fleets being available in Germany, Italy, France, Spain, Switzerland, United Kingdom, Portugal, Austria and Monaco. Major cities where we hold our cars include, Munich, Frankfurt, Berlin, Stuttgart, Milan, Rome, Florence, Naples, Venice, Bologna, Paris, Nice, St Tropez, Barcelona, Malaga, Marbella, Madrid, Valencia, Ibiza, Palma Mallorca, London, Porto, Lisbon, Faro, Vienna, Innsbruck, Monte Carlo. Can´t see your preferred location? Contact us and let us find a solution for you.
SUV / 4×4, Super Car, Sports Car, Executive Car, Luxury Minivan, Convertible Car or anything else, let us know what requirements you have and we will be happy to assist you.
We look forward to working with you!