275,00 € incl. VAT
Hard to recognize, the new Discovery.

Why this radical change of style?

Because the fifth generation of the Discovery is reinventing itself. What started slowly at Disco 3 and became more and more obvious at Disco 4, is now being carried out by the newcomer: the change to a luxurious lifestyle SUV. Accordingly, the sharp-edged utility character now gives way to rounded lines, as is known from other noble SUVs from the brand.
What special features can Discovery offer families?
Up to 2,500 litres of cargo volume with the rear seats folded is an announcement.

Above all, no other car has ever tried so hard to make the seventh of seven seats really comfortable.

Everything is designed to ensure that the offspring who travel with you get the full comfort of row one.
Description
LAND ROVER DISCOVERY – Our Versatile SUV Yet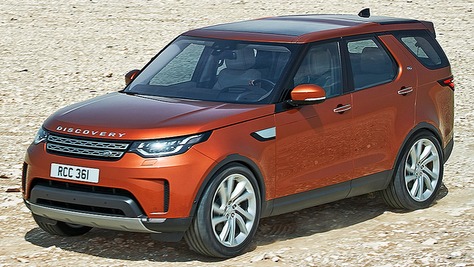 The Land Rover Discovery is in its fifth generation
LAND ROVER DISCOVERY – Our Most Versatile SUV Yet. The Land Rover Discovery (2016) starts in the fifth generation in spring. The British have big plans for the new model. When the four-wheel-drive vehicle comes on the market in spring at price starting at 50,500 euros, is the Discovery the best family off-road vehicle in the world.
To do this, they rely on a new shape and a new format. Because the rustic and sometimes a bit quirky Land Rover Discovery (2016) has become a smooth and no-frills SUV with a streamlined shape and wide-angled windscreen, which for a good reason carries Discovery in huge letters on the hood – otherwise you could help it Glimpses of some perspectives can be mistaken for Evoque & Co. Land Rover great importance that important design details from the discovery history can also be found in the fifth edition. The step in the roof, for example, has shrunk to a tiny. The split tailgate no longer exists.

the Versatile SUV Yet
Hugely impressive both on and off-road, the 5th generation, Land Rover Discovery has finally had some dramatic cosmetic upgrades. Always a solid, reliable SUV with commanding road presence and strong 4×4 capabilities, the Land Rover Discovery now has a softer outer skin, making it more appealing to the wider spectrum of drivers. More elegant and sporty than its predecessor, it has inherited more of the stylish finishes and beautiful genes from its sister car, the Range Rover. Yet it is still a Land Rover, so the new Land Rover Discovery still maintains its supremacy in other matters – space, ruggedness and brute force for the off-road adventures.
Renting a Land Rover is a perfect solution for your family vacations. The Land Rover Discovery 5 is no exception. With its all-wheel-drive capabilities, space and comfort, it offers the perfect combination for any other holiday for that matter. Able to handle the snowy mountains or the sandy beaches, the Land Rover Discovery is comfortable on all terrain. With the option of seven seats, the usability and practicality of the Land Rover extend still further.

Rent the Land Rover Discovery in the U.K. and drive from Bournemouth in the south to Inverness in the north. Every challenge the Great British Isles throws at you, can be dealt with by this magnificent machine. Hire the Land Rover Discovery across Europe in Davos,
Salzburg, Turin, Chamonix and many other locations.
Brand
Europe Prestige Car Rent
Whether you´re looking for a luxury car rental for business or pleasure, we are here to help. With a wide range of cars, ranging from Super Cars to Executive Limousines, we have the luxury car hire, that you are looking for. With over 10 years experience in the luxury car hire industry, we understand our customers and their requirement for a straight forward, easy and effective service. At Europe Prestige Car Hire, we take pride in delivering exactly this.
Our passion, knowledge and drive to provide the best luxury car hire service in Europe, is what separates us from our competition. So whether you need to book a car fast, for the same day or you want to look at all of the available options, taking your time to decide on the right package for you, we will be with you every step of the way. This is what we enjoy. But our service doesn´t stop when you make the reservation, like with some companies. We are available at all times, to make sure your experience with us, is as good as it can possibly be.
If you are unsure which car you would like to book or where you would like to drive, contact us and we will be happy to assist you, in finding the best luxury car hire experience. Our cars are second to none and our service is top drawer. Let us use our experience to help you find your own, Europe Prestige Car Rent.
We offer the following prestige car brands in Europe: Aston Martin, Audi, Bentley, BMW, Ferrari, Lamborghini, Maserati, McLaren, Mercedes Benz, Porsche, Range Rover, Rolls Royce and many others besides.
Over the years, we have organised many car tours throughout Europe. Whether you need three or thirty cars, we have the experience and dedication, to organise a tour that suits your requirements. So if you are looking for a once in a lifetime, luxury car driving experience, contact us and we will be happy to help. Contact Europe Prestige Car Rent to arrange your trip to Europe. It doesn´t matter if you are going on a business trip, your dream driving holiday, or just want to try a Super Car for a day. We can help.
We offer a custom service. Delivery and collection of the car is offered at a location and time of you choosing. Airport, Hotel, Train Station, Private Villa, Marina, Home Address, it really doesn´t matter. We do the work, so you can simply enjoy renting one our our luxury cars. If you require Airport delivery, our driver will wait for you, holding a board with your name on it. They will then take you to the car and set you away, to enjoy your driving experience.
We offer cars all across Europe, with our main luxury fleets being available in Germany, Italy, France, Spain, Switzerland, United Kingdom, Portugal, Austria and Monaco. Major cities where we hold our cars include, Munich, Frankfurt, Berlin, Stuttgart, Milan, Rome, Florence, Naples, Venice, Bologna, Paris, Nice, St Tropez, Barcelona, Malaga, Marbella, Madrid, Valencia, Ibiza, Palma Mallorca, London, Porto, Lisbon, Faro, Vienna, Innsbruck, Monte Carlo. Can´t see your preferred location? Contact us and let us find a solution for you.
SUV / 4×4, Super Car, Sports Car, Executive Car, Luxury Minivan, Convertible Car or anything else, let us know what requirements you have and we will be happy to assist you.
We look forward to working with you!