990,00 € incl. VAT
OVERVIEW
The Huracán Performante has decided to lower its roof and transform itself into the Spyder. The highest performance that the Huracán family has ever seen. Its lines are designed to thrill at first sight. The state-of-the-art technology has been developed to provide a one-of-a-kind driving experience. Weighing in at 35 kg less than the Huracán 4WD Spyder. and with 30 HP more, this newest addition to the House of the Raging Bull vaunts the best power-to-weight ratio in the Huracán Spyder range. It uses Forged Composites® material and the new ALA (Lamborghini Active Aerodynamics) technology. The Huracán Performante Spyder: power has become breathtakingly beautiful.
EMOTION
It would be impossible not to feel the thrill. The Huracán Performante Spyder is breathtaking beauty paired with extreme performance. A car with a strong and assertive character. With an ANIMA driving-mode selector that has been optimized to respond seamlessly to the driver. Commands and its V10 640 HP Huracán Performante Spyder engine, the sensations you experience behind its wheel will travel from your head to your heart in a fraction of a second.
Description
Lamborghini Huracan Spyder
Lamborghini Huracan Spyder. Ferocious and luxurious are the two perfect words to describe the sensational Lamborghini Huracan. The Lamborghini Huracan is the replacement for the Lamborghini Gallardo. He is the ultimate sports car and is immediately distinguishable from its competition. The exterior offers a full LED lighting system and chiseled, sporty frame sat upon a hybrid aluminum, carbon fibre chassis.
This provides a great driving experience and magneto-rheological suspension. Pair these with Lamborghini´s new braking system and you have a driving experience to cherish. Take long, curvy, country roads at speed, brake quickly at the bends and grip every inch of tarmac. You will enjoy the experience of a Lamborghini Huracan car hire.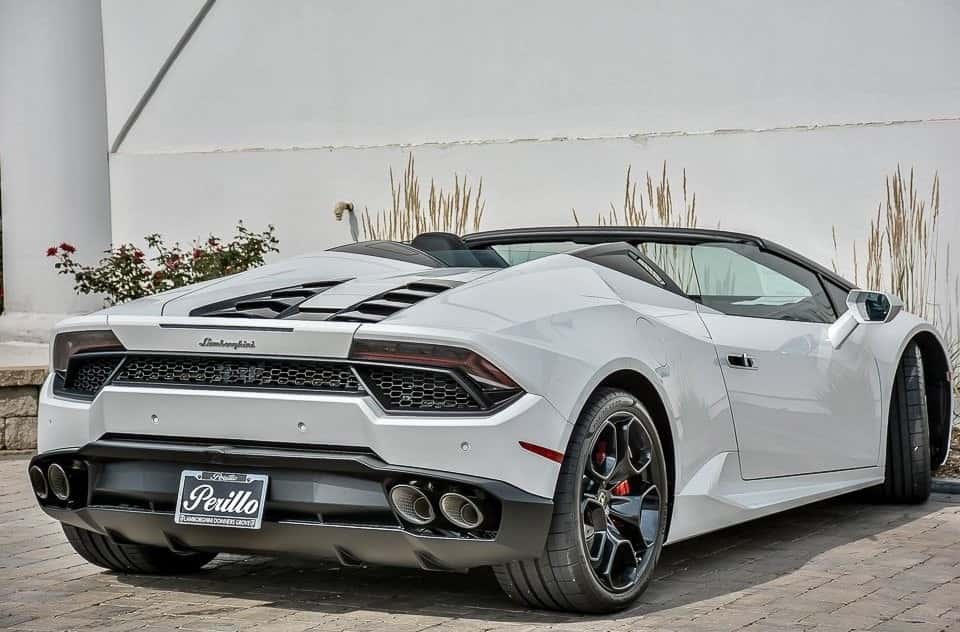 No matter what the conditions or time of year. With this new Lamborghini, the driver is treated to comforting extras. Electric backrests and longitudinal adjustment, ensuring for a ride in ultimate comfort. The control dashboard offers plenty of gadgets to improve the functionality and experience of driving the Lamborghini Huracan.

EXTERIOR DESIGN
Design and aerodynamics developed with a passion very highest in performance and beauty. This is achieved thanks to the use of Forged Composites technology. It is a hybrid chassis in aluminium and carbon fibre, and the latest Lamborghini ALA (Lamborghini Active Aerodynamics). Its sharp and finely-honed lines make the Huracán Performante Spyder unmistakable.

Rent the Lamborghini Huracan Spyder in Barcelona and escape the city for an afternoon in the Spanish sunshine. Hire the Lamborghini Huracan Spyder for an Italian escape and drive across country from Rimini to Pisa.
Brand
Europe Prestige Car Rent
Whether you´re looking for a luxury car rental for business or pleasure, we are here to help. With a wide range of cars, ranging from Super Cars to Executive Limousines, we have the luxury car hire, that you are looking for. With over 10 years experience in the luxury car hire industry, we understand our customers and their requirement for a straight forward, easy and effective service. At Europe Prestige Car Hire, we take pride in delivering exactly this.
Our passion, knowledge and drive to provide the best luxury car hire service in Europe, is what separates us from our competition. So whether you need to book a car fast, for the same day or you want to look at all of the available options, taking your time to decide on the right package for you, we will be with you every step of the way. This is what we enjoy. But our service doesn´t stop when you make the reservation, like with some companies. We are available at all times, to make sure your experience with us, is as good as it can possibly be.
If you are unsure which car you would like to book or where you would like to drive, contact us and we will be happy to assist you, in finding the best luxury car hire experience. Our cars are second to none and our service is top drawer. Let us use our experience to help you find your own, Europe Prestige Car Rent.
We offer the following prestige car brands in Europe: Aston Martin, Audi, Bentley, BMW, Ferrari, Lamborghini, Maserati, McLaren, Mercedes Benz, Porsche, Range Rover, Rolls Royce and many others besides.
Over the years, we have organised many car tours throughout Europe. Whether you need three or thirty cars, we have the experience and dedication, to organise a tour that suits your requirements. So if you are looking for a once in a lifetime, luxury car driving experience, contact us and we will be happy to help. Contact Europe Prestige Car Rent to arrange your trip to Europe. It doesn´t matter if you are going on a business trip, your dream driving holiday, or just want to try a Super Car for a day. We can help.
We offer a custom service. Delivery and collection of the car is offered at a location and time of you choosing. Airport, Hotel, Train Station, Private Villa, Marina, Home Address, it really doesn´t matter. We do the work, so you can simply enjoy renting one our our luxury cars. If you require Airport delivery, our driver will wait for you, holding a board with your name on it. They will then take you to the car and set you away, to enjoy your driving experience.
We offer cars all across Europe, with our main luxury fleets being available in Germany, Italy, France, Spain, Switzerland, United Kingdom, Portugal, Austria and Monaco. Major cities where we hold our cars include, Munich, Frankfurt, Berlin, Stuttgart, Milan, Rome, Florence, Naples, Venice, Bologna, Paris, Nice, St Tropez, Barcelona, Malaga, Marbella, Madrid, Valencia, Ibiza, Palma Mallorca, London, Porto, Lisbon, Faro, Vienna, Innsbruck, Monte Carlo. Can´t see your preferred location? Contact us and let us find a solution for you.
SUV / 4×4, Super Car, Sports Car, Executive Car, Luxury Minivan, Convertible Car or anything else, let us know what requirements you have and we will be happy to assist you.
We look forward to working with you!