1.250,00 € incl. VAT
Aventador
Latest model
Rent this brutal Supercar and love the special moments
Lamborghini Aventador is a two-seater coupe, powered by a 6.5-litre V12 engine block, displacing 691 BHP.

Aventador is a brutal beauty, known for its jagged edge design, along with superior aerodynamics. It is based on reinforced carbon fibre and plastic body frame.

Its rivals in class include the Lexus LFA, Ferrari 599 and the Porsche 911. Lamborghini manages to outperform competitors in terms of refinement and brute power.
Description
Lamborghini Aventador
Lamborghini Aventador is the latest supercar created by Lamborghini and replaces the hugely successful Lamborghini Murcielago. Cast your eyes over the specification sheet of this magnificent car and you will immediately know how special it is and how far Lamborghini has come over the last decade. The latest Lamborghini supercar, is a beast of a different kind. A true raging bull. It has never been a secret that Lamborghini makes some of the very best, luxury performance cars, but the Lamborghini Aventador is more like a rocket, with some wheels strapped to the bottom.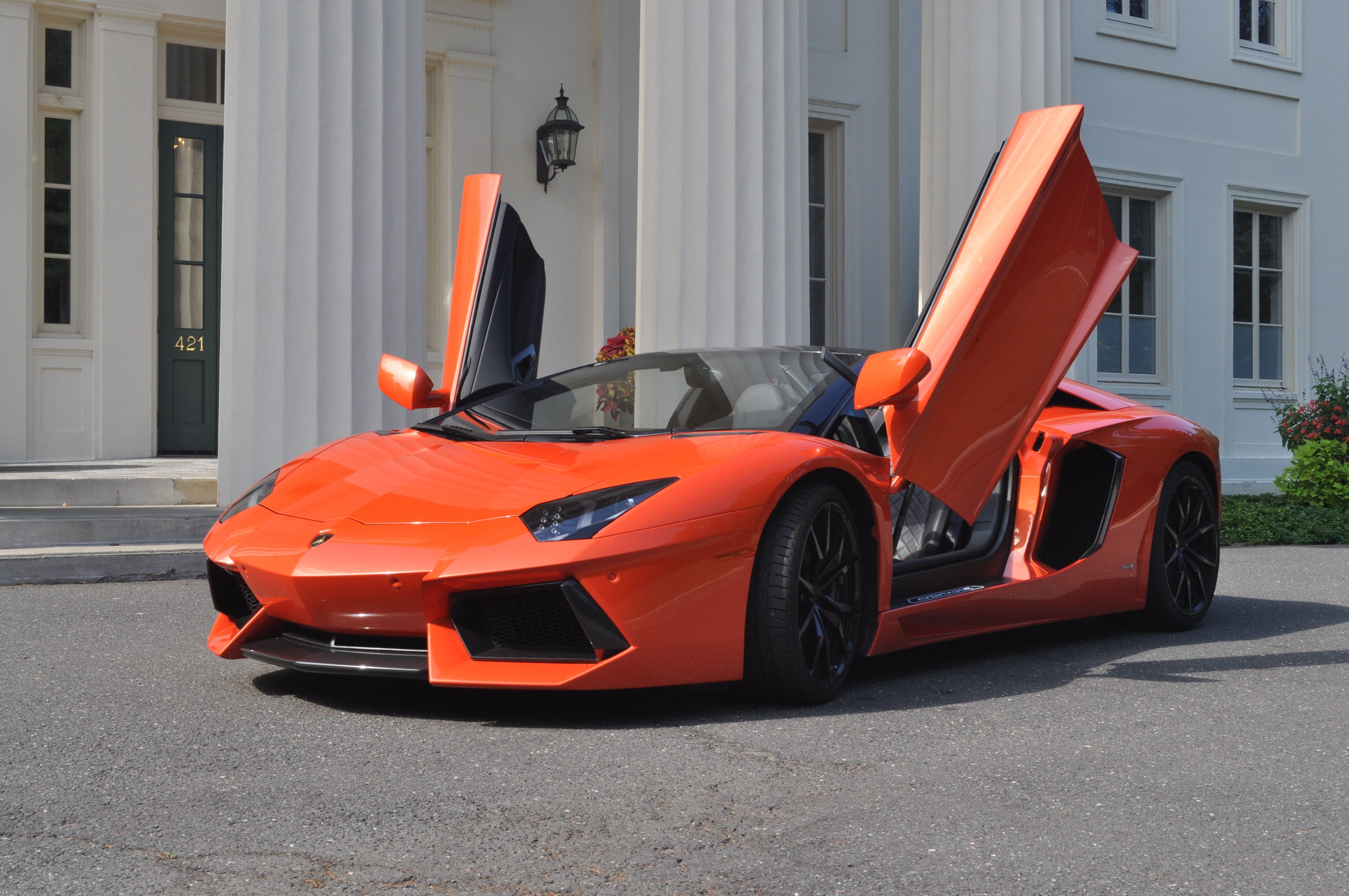 700 horsepower, a 6.5 litre, naturally aspirated V12 engine under the hood and 1-100 Km/H time of just 2.9 seconds. The Lamborghini Aventador is a juggernaut. Lamborghini has housed all of this power within a chassis that is edgy and modern and the exterior styling leaves you in no doubt that you are in the presence of a special car. But the Aventador isn´t all about raw power, it also offers plenty of comfort and pristine handling in all conditions. With a low, wide frame and supreme build quality, the Aventador is easy to drive. Responding precisely and keeping you comfortable even during long drives. Available as both a Coupe and Roadster, whether you like the sportier option of a closed cabin, or like to enjoy the open air, where you can really hear the engine roar, the Lamborghini Aventador is a car you have to try.
Rent the Lamborghini Aventador in Paris. You can choose whether the people are want to turn heads in the city, or escape the madness for a few hours. Show favorit is the power up the Aventador on the open road. Hire the Supercar across Europe in London, Nice, Florence and many other locations.
Brand
Europe Prestige Car Rent
Whether you´re looking for a luxury car rental for business or pleasure, we are here to help. With a wide range of cars, ranging from Super Cars to Executive Limousines, we have the luxury car hire, that you are looking for. With over 10 years experience in the luxury car hire industry, we understand our customers and their requirement for a straight forward, easy and effective service. At Europe Prestige Car Hire, we take pride in delivering exactly this.
Our passion, knowledge and drive to provide the best luxury car hire service in Europe, is what separates us from our competition. So whether you need to book a car fast, for the same day or you want to look at all of the available options, taking your time to decide on the right package for you, we will be with you every step of the way. This is what we enjoy. But our service doesn´t stop when you make the reservation, like with some companies. We are available at all times, to make sure your experience with us, is as good as it can possibly be.
If you are unsure which car you would like to book or where you would like to drive, contact us and we will be happy to assist you, in finding the best luxury car hire experience. Our cars are second to none and our service is top drawer. Let us use our experience to help you find your own, Europe Prestige Car Rent.
We offer the following prestige car brands in Europe: Aston Martin, Audi, Bentley, BMW, Ferrari, Lamborghini, Maserati, McLaren, Mercedes Benz, Porsche, Range Rover, Rolls Royce and many others besides.
Over the years, we have organised many car tours throughout Europe. Whether you need three or thirty cars, we have the experience and dedication, to organise a tour that suits your requirements. So if you are looking for a once in a lifetime, luxury car driving experience, contact us and we will be happy to help. Contact Europe Prestige Car Rent to arrange your trip to Europe. It doesn´t matter if you are going on a business trip, your dream driving holiday, or just want to try a Super Car for a day. We can help.
We offer a custom service. Delivery and collection of the car is offered at a location and time of you choosing. Airport, Hotel, Train Station, Private Villa, Marina, Home Address, it really doesn´t matter. We do the work, so you can simply enjoy renting one our our luxury cars. If you require Airport delivery, our driver will wait for you, holding a board with your name on it. They will then take you to the car and set you away, to enjoy your driving experience.
We offer cars all across Europe, with our main luxury fleets being available in Germany, Italy, France, Spain, Switzerland, United Kingdom, Portugal, Austria and Monaco. Major cities where we hold our cars include, Munich, Frankfurt, Berlin, Stuttgart, Milan, Rome, Florence, Naples, Venice, Bologna, Paris, Nice, St Tropez, Barcelona, Malaga, Marbella, Madrid, Valencia, Ibiza, Palma Mallorca, London, Porto, Lisbon, Faro, Vienna, Innsbruck, Monte Carlo. Can´t see your preferred location? Contact us and let us find a solution for you.
SUV / 4×4, Super Car, Sports Car, Executive Car, Luxury Minivan, Convertible Car or anything else, let us know what requirements you have and we will be happy to assist you.
We look forward to working with you!