Description

King Air C90GTi Turbo-Prob is a whole new world of flying. This offers there King Air qualities of performance combined with comfort. This versatile workhorse has great range and payload due to its features.
This state comes together composite winglets, swept-blade propellers and dual aft strakes. The King Air C90GTx is sure to become your new favourite aircraft.
Sitting Konfiguration
Interior

King Sized Comfort
The King Air C90GTx features our famed square-oval design which provides more headroom and shoulder space for every passenger. The versatile and roomy 227-cubic-foot interior is sophisticated and convenient in design. The cabin is equipped with 26 tuned vibration absorbers to keep the area quiet and comfortable.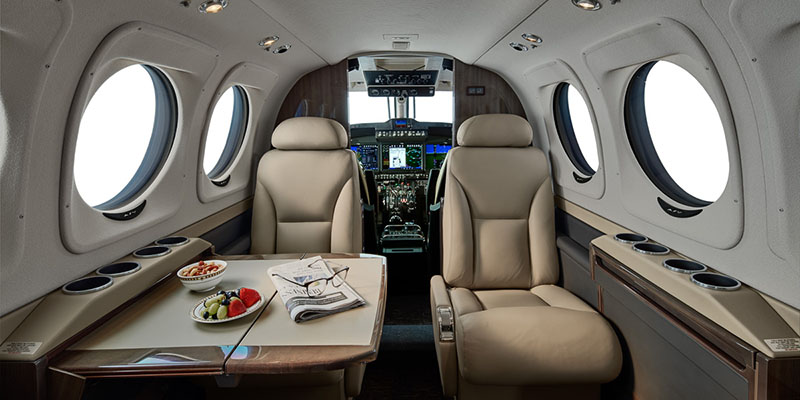 Avionics

Integrated Approach to Efficiency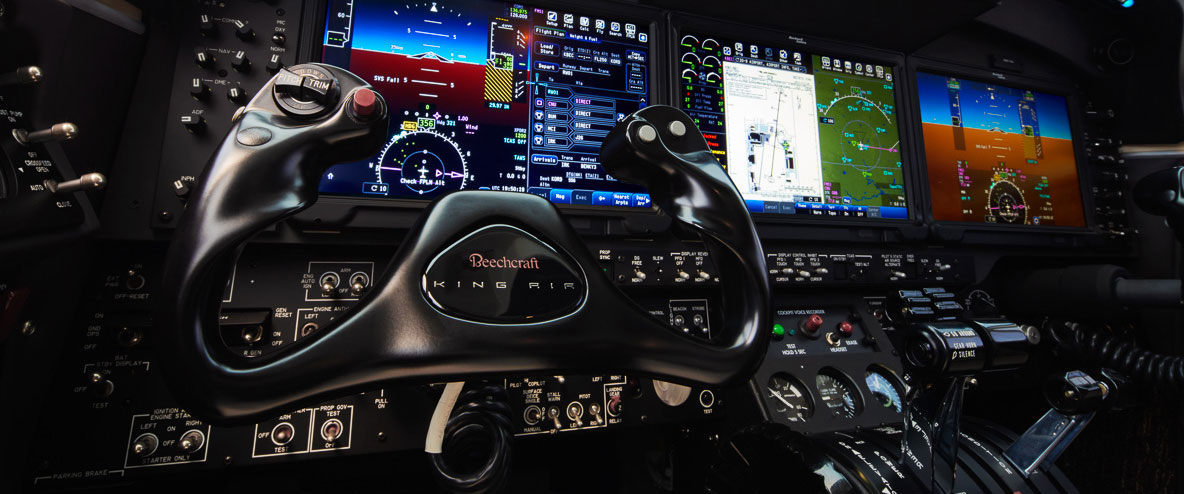 Through continuous refinement, the already innovative King Air flight deck is now completely state-of-the-art.
The King Air C90GTx features Collins Aerospace Pro Line Fusion avionics. This system offers simplified single-pilot operation to reduce pilot fatigue and reduce operating economics. Pro Line Fusion modernized center console provides an alternative input method for flexible, heads-up flying.
Maximale Distanz von Stuttgart
Plane Data
| | |
| --- | --- |
| Kennzeichen: | D-IMRB |
| Anmeldung: | Stuttgart |
| Baujahr: | 2008 |
| Sitzplätze: | 5 |
| Besatzung: | 2 |
| Boardküche: | Nein |
| Toilette: | Ja |
| Reichweite: | 1.600 km |
| Max. Flughöhe: | 9.000 m |
| Geschwindigkeit: | 500 km/h |
| | |
| Kabine: | |
| Länge: | 3,48 m |
| Höhe: | 1,45 m |
| Breite: | 1,37 m |
Brand
E-Aviation
We fly whenever you want
As a charter flight partner for individual business and private flights, we bring our passengers directly and exclusively to their destination throughout Europe.
Flying has been our passion - for Alfred Eisele for decades.
Since our foundation in 1997, we have been happy to pass on all of our experience and passion to business and private travelers.
With every charter flight and also with our flight services, we meet the customers' demands for maximum safety, flexibility and first class service.
We invite you to discover the world of e-aviation and we look forward to welcoming you on board soon.
Let yourself be inspired!