195,00 € incl. VAT
Rubicon Recon Edition is a rougher, tougher Wrangler
As four-wheel drives have taken a turn for the luxurious, the Jeep Wrangler stands tall as a capable, old fashioned off-roader. The regular Rubicon will already go anywhere, but some hardcore enthusiasts want more than just regular – they want to know no road, rock or rut will be able to stop them. The new Wrangler Rubicon Recon aims to cater to these people.
Most of the major changes come under the skin of the Recon, where Jeep has spent its time taking a tough underbody and making it properly bombproof. The front axle has been upgraded with strengthened tubes and heavy-duty end forgings, while the differentials at both ends have been covered with cast heavy-duty covers. Gone are the standard rock rails and in their place is a shorter set, designed to leave room for the gigantic off-road tires.
Description
Jeep Wrangler Rubicon – Next Generation Freedom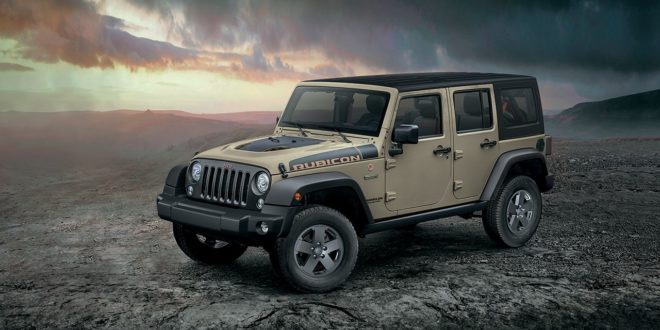 Jeep Wrangler Rubicon – Next Generation Freedom. From one Jeep to another, the Jeep Wrangler is tried-and-true when it comes to off-road SUVs. It features plenty of cargo space in the Ultimate (four-door) trim, as well as a punchy turbocharged engine. New for 2020, you can now get select Wrangler models with a diesel engine, making 260 horsepower and 442 pound-feet torque.
The base Wrangler Sport and uplevel Sahara models feature standard four-wheel drive with Jeep's Command-Trac two-speed transfer case and next-generation front and rear axles.
Upgrading to the Wrangler Rubicon trim brings unheralded off-road capabilities. The Rubicon comes with heavy-duty versions of the next-gen axles, enhanced off-road rails, and a two-speed transfer case with a 4:1 low-range gear ratio. Additional features include front and rear locking differentials, a disconnecting front sway bar to allow for more wheel articulation, and 33-inch BF Goodrich tires.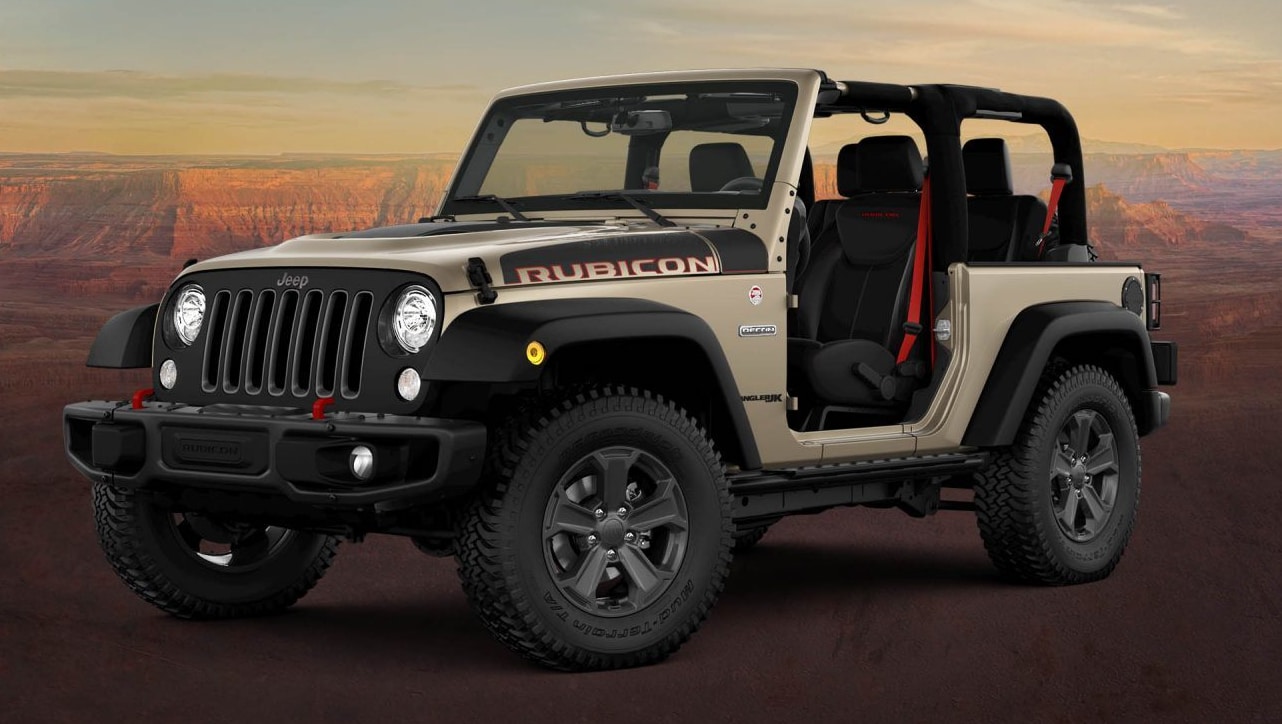 The Wrangler features a best-in-class approach angle of 44 degrees. He features a departure angle of 37 degrees and almost 11-inches of ground clearance.
With the Jeep® Wrangler Sport, nothing stands in the way of your adventures. The Trail Rated® badge awarded by Jeep® signals that it can tackle even the most difficult terrain. It is completely authentic and the ideal model for entry into the fascinating world of the Jeep® Wrangler.
For a highly capable and rugged, SUV, the Jeep Wrangler has to be the choice. Without a doubt, the best all-terrain vehicle on the road and a car that any other cars struggle to compete with. The Jeep Wrangler is an iconic American SUV and started its days as an American Army vehicle. From there it has developed to become one of the most stylish, powerful and capable SUV´s of both the road and off-road. Few vehicles offer what the Jeep Wrangler can, with its detachable roof offering a fully open-top SUV. The Jeep Wrangler is the perfect, fun-packed car, for your holidays in sunny climates, where you can show up to the beach in a car made for the occasion. But the Jeep Wrangler shouldn't be pigeon-holed as just a convertible SUV. Also available with a hard roof, the Jeep Wrangler can easily take on mountainous terrain as well.
The Jeep Wrangler offers the driver a truly authentic off-road driving experience. Whilst ensuring that the passengers experience a ride quality that is comfortable, even on extreme terrain. The Jeep Wrangler is the ultimate fun, family ride. Nothing gets close to the thrills that you can get when you hire the Jeep Wrangler. With added extras such as heated leather seats providing additional comfort, this is an SUV that can enhance your holiday.
Rent the Jeep Wrangler in Ibiza and enjoy the party island, with the most appropriate of cars. Hire the Jeep Wrangler in Spain, where it is available in Palma de Mallorca, Barcelona, Valencia and many other locations.
Brand
Europe Prestige Car Rent
Whether you´re looking for a luxury car rental for business or pleasure, we are here to help. With a wide range of cars, ranging from Super Cars to Executive Limousines, we have the luxury car hire, that you are looking for. With over 10 years experience in the luxury car hire industry, we understand our customers and their requirement for a straight forward, easy and effective service. At Europe Prestige Car Hire, we take pride in delivering exactly this.
Our passion, knowledge and drive to provide the best luxury car hire service in Europe, is what separates us from our competition. So whether you need to book a car fast, for the same day or you want to look at all of the available options, taking your time to decide on the right package for you, we will be with you every step of the way. This is what we enjoy. But our service doesn´t stop when you make the reservation, like with some companies. We are available at all times, to make sure your experience with us, is as good as it can possibly be.
If you are unsure which car you would like to book or where you would like to drive, contact us and we will be happy to assist you, in finding the best luxury car hire experience. Our cars are second to none and our service is top drawer. Let us use our experience to help you find your own, Europe Prestige Car Rent.
We offer the following prestige car brands in Europe: Aston Martin, Audi, Bentley, BMW, Ferrari, Lamborghini, Maserati, McLaren, Mercedes Benz, Porsche, Range Rover, Rolls Royce and many others besides.
Over the years, we have organised many car tours throughout Europe. Whether you need three or thirty cars, we have the experience and dedication, to organise a tour that suits your requirements. So if you are looking for a once in a lifetime, luxury car driving experience, contact us and we will be happy to help. Contact Europe Prestige Car Rent to arrange your trip to Europe. It doesn´t matter if you are going on a business trip, your dream driving holiday, or just want to try a Super Car for a day. We can help.
We offer a custom service. Delivery and collection of the car is offered at a location and time of you choosing. Airport, Hotel, Train Station, Private Villa, Marina, Home Address, it really doesn´t matter. We do the work, so you can simply enjoy renting one our our luxury cars. If you require Airport delivery, our driver will wait for you, holding a board with your name on it. They will then take you to the car and set you away, to enjoy your driving experience.
We offer cars all across Europe, with our main luxury fleets being available in Germany, Italy, France, Spain, Switzerland, United Kingdom, Portugal, Austria and Monaco. Major cities where we hold our cars include, Munich, Frankfurt, Berlin, Stuttgart, Milan, Rome, Florence, Naples, Venice, Bologna, Paris, Nice, St Tropez, Barcelona, Malaga, Marbella, Madrid, Valencia, Ibiza, Palma Mallorca, London, Porto, Lisbon, Faro, Vienna, Innsbruck, Monte Carlo. Can´t see your preferred location? Contact us and let us find a solution for you.
SUV / 4×4, Super Car, Sports Car, Executive Car, Luxury Minivan, Convertible Car or anything else, let us know what requirements you have and we will be happy to assist you.
We look forward to working with you!