295,00 € incl. VAT
XJ
The top model from Jaguar. The perfect combination of the latest technologies, sporty driving dynamics and elegant comfort.
The Jaguar XJ redefines the luxury class. It represents an exciting combination of power, beauty and driving comfort. It also convinces with its excellent agility and thus offers an extremely dynamic driving experience. In the interior, he spoils the occupants with a generous amount of space and thus guarantees a relaxed journey. The state-of-the-art Touch Pro infotainment system from Jaguar is part of the standard equipment along with other interior and exterior extras. The Jaguar XJ also comes with full-LED headlights and
– Taillights equipped.
The Jaguar XJ – unique design, incomparable driving performance.
Description
Jaguar XJ-The Top Model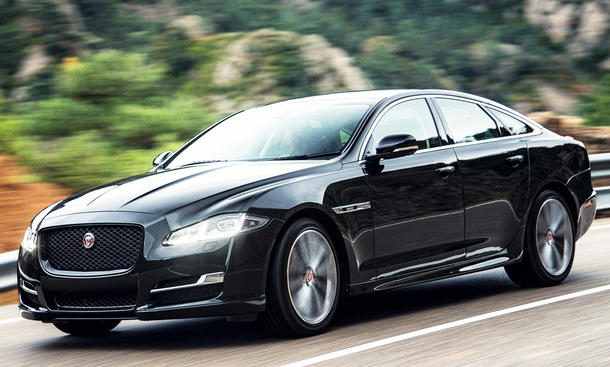 Jaguar XJ-The Top Model is the answer to an executive car, the car surpasses every expectation. With typical Jaguar styling, the Jaguar XJ is packed full of luxury fixtures and beautiful design feature outside. All have finished off with just a hint of Jaguar´s sports car heritage. The car is a highly appealing luxury rental option for your holiday or business trip. It combines Jaguar's understated approach to design. Supreme performance and excellent reliability, in a well-rounded car, that will capture your imagination and will never fail to delight.
The XJ sets completely new standards in terms of quality and workmanship for every detail. You can choose from a variety of equipment and options for the interior. The seats are in perforated, quilted soft grain leather in Ivory. The top of the dashboard in Ebony, a headlining in Premium Velour and decorative elements in Gloss Figured Ebony.

The interior of the Jaguar XJ offers all the luxury fittings you expect from a Jaguar sedan. Climate control, keyless entry, comfortable leather upholstery and a whole host of other technology. The car offers complete driving satisfaction. You have an able ride and precision handling. The Jaguar provides smooth gear changes. He has quick acceleration and an interior which is spacious and luxurious.
Rent the Jaguar XJ in London and strut from meeting to meeting. In the capital of England drive in style and comfort, or hire the Jaguar XJ in Rome. Take in the sites of the Roman Empire, whilst relaxing in this luxurious sedan.
Brand
Europe Prestige Car Rent
Whether you´re looking for a luxury car rental for business or pleasure, we are here to help. With a wide range of cars, ranging from Super Cars to Executive Limousines, we have the luxury car hire, that you are looking for. With over 10 years experience in the luxury car hire industry, we understand our customers and their requirement for a straight forward, easy and effective service. At Europe Prestige Car Hire, we take pride in delivering exactly this.
Our passion, knowledge and drive to provide the best luxury car hire service in Europe, is what separates us from our competition. So whether you need to book a car fast, for the same day or you want to look at all of the available options, taking your time to decide on the right package for you, we will be with you every step of the way. This is what we enjoy. But our service doesn´t stop when you make the reservation, like with some companies. We are available at all times, to make sure your experience with us, is as good as it can possibly be.
If you are unsure which car you would like to book or where you would like to drive, contact us and we will be happy to assist you, in finding the best luxury car hire experience. Our cars are second to none and our service is top drawer. Let us use our experience to help you find your own, Europe Prestige Car Rent.
We offer the following prestige car brands in Europe: Aston Martin, Audi, Bentley, BMW, Ferrari, Lamborghini, Maserati, McLaren, Mercedes Benz, Porsche, Range Rover, Rolls Royce and many others besides.
Over the years, we have organised many car tours throughout Europe. Whether you need three or thirty cars, we have the experience and dedication, to organise a tour that suits your requirements. So if you are looking for a once in a lifetime, luxury car driving experience, contact us and we will be happy to help. Contact Europe Prestige Car Rent to arrange your trip to Europe. It doesn´t matter if you are going on a business trip, your dream driving holiday, or just want to try a Super Car for a day. We can help.
We offer a custom service. Delivery and collection of the car is offered at a location and time of you choosing. Airport, Hotel, Train Station, Private Villa, Marina, Home Address, it really doesn´t matter. We do the work, so you can simply enjoy renting one our our luxury cars. If you require Airport delivery, our driver will wait for you, holding a board with your name on it. They will then take you to the car and set you away, to enjoy your driving experience.
We offer cars all across Europe, with our main luxury fleets being available in Germany, Italy, France, Spain, Switzerland, United Kingdom, Portugal, Austria and Monaco. Major cities where we hold our cars include, Munich, Frankfurt, Berlin, Stuttgart, Milan, Rome, Florence, Naples, Venice, Bologna, Paris, Nice, St Tropez, Barcelona, Malaga, Marbella, Madrid, Valencia, Ibiza, Palma Mallorca, London, Porto, Lisbon, Faro, Vienna, Innsbruck, Monte Carlo. Can´t see your preferred location? Contact us and let us find a solution for you.
SUV / 4×4, Super Car, Sports Car, Executive Car, Luxury Minivan, Convertible Car or anything else, let us know what requirements you have and we will be happy to assist you.
We look forward to working with you!