1.350,00 € incl. VAT
Many of the customers are surprised
When Ferrari launched the four-seater FF in early 2011 it took many of us by surprise. Not only was this Modena's first all-wheel-drive car, but it also wrapped its unconventional drivetrain in equally adventurous shooting brake style. And as a four-seater all-paw Ferrari, it really worked. Even the boot was decently proportioned to swallow a weekend-away-luggage.
'The FF was a very bold move for us,' agrees Ferrari's head of product marketing Nicola Boari, 'but FF buyers were a new kind of Ferrarista. The average age of the buyers was 45 – 10 years younger than 612 Scaglietti drivers. 60% of journeys were made four-up.' Average annual mileage was 50% greater than with the 612 as well.
It's against the backdrop of this popularity – Ferrari has always been backward in coming forward when it comes to its sales figures, but we reckon it found 800 FF customers a year – that we took to the Dolomitian roads around Corvara and Cortina in the new GTC4Lusso. Read on for our full review.
► The First test of Ferrari's new GTC4Lusso shooting brake
► Four-seater all-wheel driver picks up where FF left off
► More power, but focus is squarely on enhanced versatility
Description
Ferrari GTC4Lusso 6.3 V12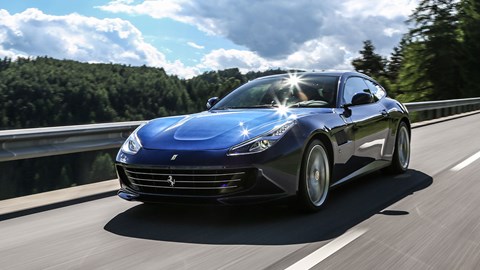 Ferrari GTC4Lusso 6.3 V12. If you have always dreamed of driving a Ferrari but need a car that offers four seats, Ferrari offers you the Ferrari GTC 4 Lusso. The powerful yet sophisticated replacement for the Ferrari FF, the Ferrari GTC 4 Lusso is sporty, yet luxurious. With its 6.3 litres, V12 engine, the Ferrari GTC 4 Lusso is a true crossbreed, between a four-seat coupe and a supercar. Ferrari´s version of practicality, the Ferrari GTC 4 Lusso has both four-wheel drive and four-wheel steering, making this a viable option for your trips to the snow-covered mountains of Europe.
By combining a four-seat car, with a new V12 engine, Ferrari has made every journey a different experience. With the arrival of the Ferrari GTC 4 Lusso, the concept of the sporty four-seater, the four-wheel-drive has changed forever. Ferrari GTC 4 Lusso is for the driver that demands power and performance but are also uncompromising on comfort; not just for them but for all of their passengers. Packed with sporty features, elegant touches and impeccable details, the Ferrari GTC 4 Lusso is quite simply, a magnificent creation.
A perfect Gran-Touring machine, rent the Ferrari GTC 4 Lusso in any location. Hire the Ferrari GTC 4 Lusso. it will suit the streets of Monte Carlo, Cannes or St Tropez. You will lap up miles as you take it on a sublime Grand Touring experience, across Switzerland and Austria.

Brand
Europe Prestige Car Rent
Whether you´re looking for a luxury car rental for business or pleasure, we are here to help. With a wide range of cars, ranging from Super Cars to Executive Limousines, we have the luxury car hire, that you are looking for. With over 10 years experience in the luxury car hire industry, we understand our customers and their requirement for a straight forward, easy and effective service. At Europe Prestige Car Hire, we take pride in delivering exactly this.
Our passion, knowledge and drive to provide the best luxury car hire service in Europe, is what separates us from our competition. So whether you need to book a car fast, for the same day or you want to look at all of the available options, taking your time to decide on the right package for you, we will be with you every step of the way. This is what we enjoy. But our service doesn´t stop when you make the reservation, like with some companies. We are available at all times, to make sure your experience with us, is as good as it can possibly be.
If you are unsure which car you would like to book or where you would like to drive, contact us and we will be happy to assist you, in finding the best luxury car hire experience. Our cars are second to none and our service is top drawer. Let us use our experience to help you find your own, Europe Prestige Car Rent.
We offer the following prestige car brands in Europe: Aston Martin, Audi, Bentley, BMW, Ferrari, Lamborghini, Maserati, McLaren, Mercedes Benz, Porsche, Range Rover, Rolls Royce and many others besides.
Over the years, we have organised many car tours throughout Europe. Whether you need three or thirty cars, we have the experience and dedication, to organise a tour that suits your requirements. So if you are looking for a once in a lifetime, luxury car driving experience, contact us and we will be happy to help. Contact Europe Prestige Car Rent to arrange your trip to Europe. It doesn´t matter if you are going on a business trip, your dream driving holiday, or just want to try a Super Car for a day. We can help.
We offer a custom service. Delivery and collection of the car is offered at a location and time of you choosing. Airport, Hotel, Train Station, Private Villa, Marina, Home Address, it really doesn´t matter. We do the work, so you can simply enjoy renting one our our luxury cars. If you require Airport delivery, our driver will wait for you, holding a board with your name on it. They will then take you to the car and set you away, to enjoy your driving experience.
We offer cars all across Europe, with our main luxury fleets being available in Germany, Italy, France, Spain, Switzerland, United Kingdom, Portugal, Austria and Monaco. Major cities where we hold our cars include, Munich, Frankfurt, Berlin, Stuttgart, Milan, Rome, Florence, Naples, Venice, Bologna, Paris, Nice, St Tropez, Barcelona, Malaga, Marbella, Madrid, Valencia, Ibiza, Palma Mallorca, London, Porto, Lisbon, Faro, Vienna, Innsbruck, Monte Carlo. Can´t see your preferred location? Contact us and let us find a solution for you.
SUV / 4×4, Super Car, Sports Car, Executive Car, Luxury Minivan, Convertible Car or anything else, let us know what requirements you have and we will be happy to assist you.
We look forward to working with you!