295,00 € incl. VAT
Uncompromisingly non-conformist
the new BMW X6 stands for provocative self-assertiveness. Above all, this is visible in the extremely athletic body of the vehicle along with the new, distinctive design language, which is displayed by the supreme exclusivity and visionary technologies such as the impressive BMW kidney grille 'Iconic Glow'. All of this primarily points to one thing: absolute dominance, which the new BMW X6 demonstrates quite matter-of-factly on every route thanks to a powerful engine, precise
suspension and features such as the x Offroad package. Experience a previously unseen new way of exceeding expectations with the new
BMW X6.BMW X6 M50i:

Fuel consumption in l/100 km (combined): 11.5

CO2 emissions in g/km (combined): 263
Description
BMW X6-SUV Power and Presence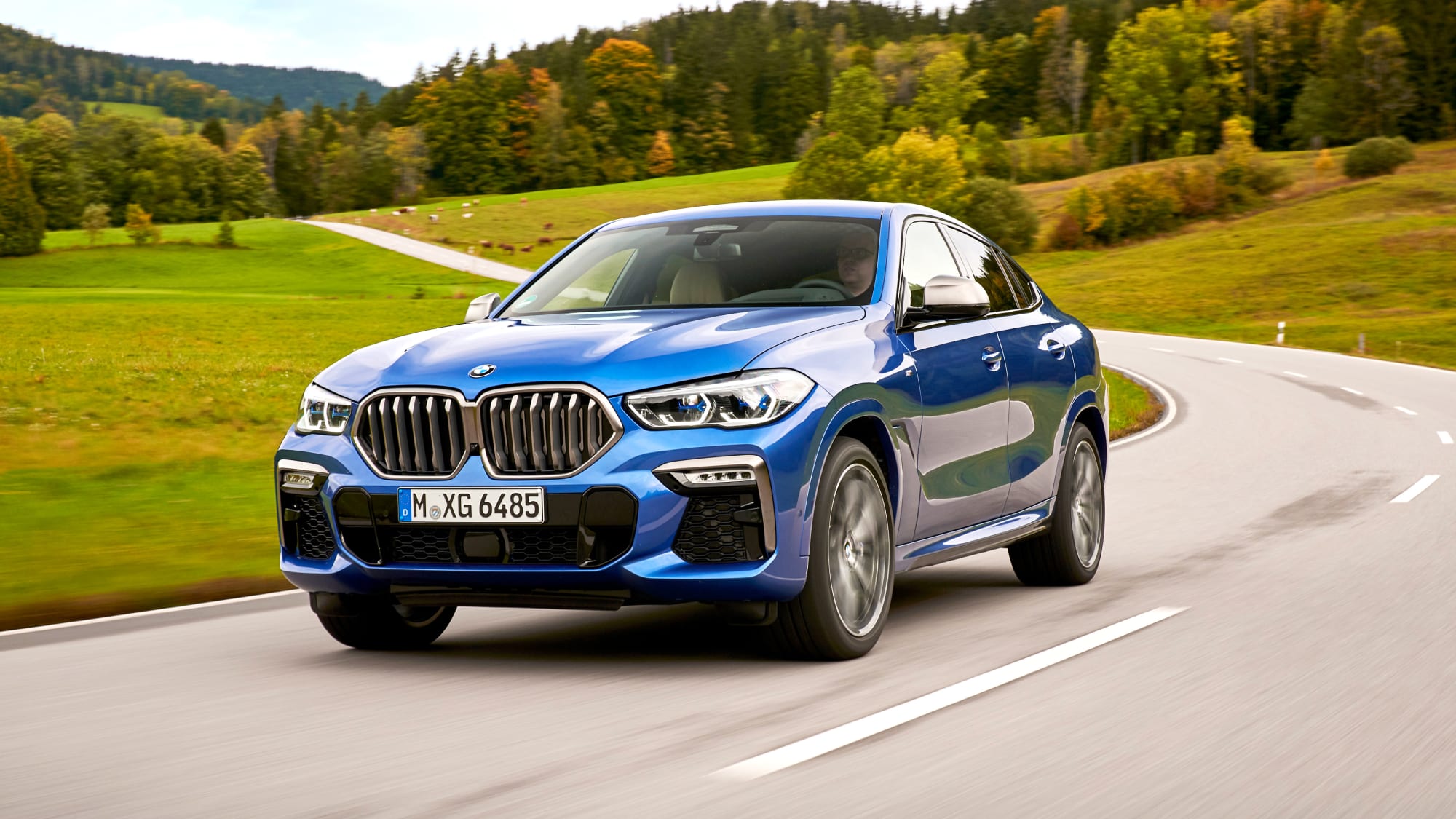 BMW X6-SUV Power and Presence. The larger and sportier BMW X model, the BMW X6 is for the driver who likes to off-road in the morning and then go for a performance drive in the afternoon. If you are looking to rent a sports SUV, then the BMW X6 should be top of your list for both its name and reputation.
With the sleek exterior design, speedy acceleration, fantastic cornering ability and a wealth of practical features to boot, the BMW X6 is one of the few SUV rentals, that offers all of the features you would expect from a 4×4 as well as a sports driving experience. When you hire the BMW X6 it always delivers. There are no over the top frills or unnecessary technology to over complicate the driving experience, just everything you need for an exciting drive. As with all BMW models, in the X6 you can be sure of true safety and comfort.
Whether you fancy a cruise around the historic streets of Turin, a high-speed thrill ride across the Pyrenees, or a rough-and-ready off-road experience in the snow-capped mountains of the Swiss Alps above Lausanne, the BMW X6 is a car that delivers.
Brand
Europe Prestige Car Rent
Whether you´re looking for a luxury car rental for business or pleasure, we are here to help. With a wide range of cars, ranging from Super Cars to Executive Limousines, we have the luxury car hire, that you are looking for. With over 10 years experience in the luxury car hire industry, we understand our customers and their requirement for a straight forward, easy and effective service. At Europe Prestige Car Hire, we take pride in delivering exactly this.
Our passion, knowledge and drive to provide the best luxury car hire service in Europe, is what separates us from our competition. So whether you need to book a car fast, for the same day or you want to look at all of the available options, taking your time to decide on the right package for you, we will be with you every step of the way. This is what we enjoy. But our service doesn´t stop when you make the reservation, like with some companies. We are available at all times, to make sure your experience with us, is as good as it can possibly be.
If you are unsure which car you would like to book or where you would like to drive, contact us and we will be happy to assist you, in finding the best luxury car hire experience. Our cars are second to none and our service is top drawer. Let us use our experience to help you find your own, Europe Prestige Car Rent.
We offer the following prestige car brands in Europe: Aston Martin, Audi, Bentley, BMW, Ferrari, Lamborghini, Maserati, McLaren, Mercedes Benz, Porsche, Range Rover, Rolls Royce and many others besides.
Over the years, we have organised many car tours throughout Europe. Whether you need three or thirty cars, we have the experience and dedication, to organise a tour that suits your requirements. So if you are looking for a once in a lifetime, luxury car driving experience, contact us and we will be happy to help. Contact Europe Prestige Car Rent to arrange your trip to Europe. It doesn´t matter if you are going on a business trip, your dream driving holiday, or just want to try a Super Car for a day. We can help.
We offer a custom service. Delivery and collection of the car is offered at a location and time of you choosing. Airport, Hotel, Train Station, Private Villa, Marina, Home Address, it really doesn´t matter. We do the work, so you can simply enjoy renting one our our luxury cars. If you require Airport delivery, our driver will wait for you, holding a board with your name on it. They will then take you to the car and set you away, to enjoy your driving experience.
We offer cars all across Europe, with our main luxury fleets being available in Germany, Italy, France, Spain, Switzerland, United Kingdom, Portugal, Austria and Monaco. Major cities where we hold our cars include, Munich, Frankfurt, Berlin, Stuttgart, Milan, Rome, Florence, Naples, Venice, Bologna, Paris, Nice, St Tropez, Barcelona, Malaga, Marbella, Madrid, Valencia, Ibiza, Palma Mallorca, London, Porto, Lisbon, Faro, Vienna, Innsbruck, Monte Carlo. Can´t see your preferred location? Contact us and let us find a solution for you.
SUV / 4×4, Super Car, Sports Car, Executive Car, Luxury Minivan, Convertible Car or anything else, let us know what requirements you have and we will be happy to assist you.
We look forward to working with you!