270,00 € incl. VAT
Rent a BMW 5 Series
Should you decide to rent a BMW 5 Series, you will receive a classic that has been an integral part of the BMW product range for decades. The 5 Series is considered a luxury car.

It is considered the business vehicle at all because the BMW 5 Series Sedan is
sporty

elegant

confident in appearance

and above all forward-looking
Description
BMW 5 Series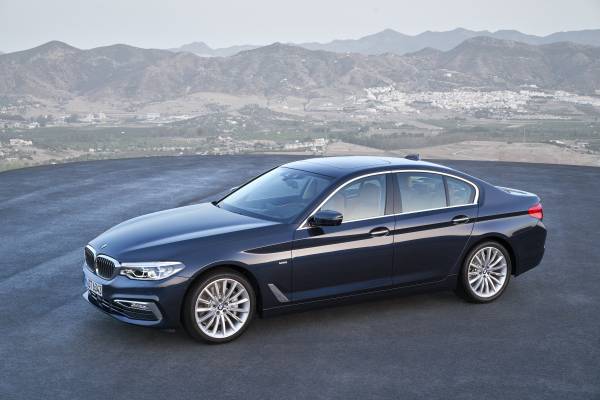 BMW 5 Series. Your self-image: setting new standards. Special Sedan is the embodiment of the modern business sedan. Thanks to its dynamic and at the same time elegant appearance, it satisfies the expectations that are placed on a vehicle of its class today: aesthetic athletics and driving pleasure based on the latest technology.
The smaller sibling of the BMW 7 Series, the BMW 5 Series offers all of the same comfort, excellence and fantastic all-round driving pleasure, in a slightly smaller package. The BMW 5 Series is a car for every location and every occasion, perfect for a business trip or a family holiday where the size of the BMW 7 Series may just be a little too large. This is a luxury, BMW sedan, capable of negotiating tight city streets.
Interior
The Sleek design on the exterior and technology in the interior, make the overall design of this Series is elegant. With impressive BMW styling comes a wealth of space and plenty of BMW's. Helpful technology, coming complete with inbuilt GPS and parking assistant are o board. A great rental choice for a business trip. The car series would be equally suited to a family holiday, too. Ease of handling and precise turning is perfect for the small city streets. The BMW will be sure to satisfy your every requirement. The 5 Series limousine is everything you would want from a smaller sedan – comfort, elegance and luxury.
Rent the BMW limousine for a business trip in London. You can travel in comfort whilst still being able to easily navigate the busy city centre. Hire the sedan car for your family holiday in Hamburg, Lyon or Alicante.
Brand
Europe Prestige Car Rent
Whether you´re looking for a luxury car rental for business or pleasure, we are here to help. With a wide range of cars, ranging from Super Cars to Executive Limousines, we have the luxury car hire, that you are looking for. With over 10 years experience in the luxury car hire industry, we understand our customers and their requirement for a straight forward, easy and effective service. At Europe Prestige Car Hire, we take pride in delivering exactly this.
Our passion, knowledge and drive to provide the best luxury car hire service in Europe, is what separates us from our competition. So whether you need to book a car fast, for the same day or you want to look at all of the available options, taking your time to decide on the right package for you, we will be with you every step of the way. This is what we enjoy. But our service doesn´t stop when you make the reservation, like with some companies. We are available at all times, to make sure your experience with us, is as good as it can possibly be.
If you are unsure which car you would like to book or where you would like to drive, contact us and we will be happy to assist you, in finding the best luxury car hire experience. Our cars are second to none and our service is top drawer. Let us use our experience to help you find your own, Europe Prestige Car Rent.
We offer the following prestige car brands in Europe: Aston Martin, Audi, Bentley, BMW, Ferrari, Lamborghini, Maserati, McLaren, Mercedes Benz, Porsche, Range Rover, Rolls Royce and many others besides.
Over the years, we have organised many car tours throughout Europe. Whether you need three or thirty cars, we have the experience and dedication, to organise a tour that suits your requirements. So if you are looking for a once in a lifetime, luxury car driving experience, contact us and we will be happy to help. Contact Europe Prestige Car Rent to arrange your trip to Europe. It doesn´t matter if you are going on a business trip, your dream driving holiday, or just want to try a Super Car for a day. We can help.
We offer a custom service. Delivery and collection of the car is offered at a location and time of you choosing. Airport, Hotel, Train Station, Private Villa, Marina, Home Address, it really doesn´t matter. We do the work, so you can simply enjoy renting one our our luxury cars. If you require Airport delivery, our driver will wait for you, holding a board with your name on it. They will then take you to the car and set you away, to enjoy your driving experience.
We offer cars all across Europe, with our main luxury fleets being available in Germany, Italy, France, Spain, Switzerland, United Kingdom, Portugal, Austria and Monaco. Major cities where we hold our cars include, Munich, Frankfurt, Berlin, Stuttgart, Milan, Rome, Florence, Naples, Venice, Bologna, Paris, Nice, St Tropez, Barcelona, Malaga, Marbella, Madrid, Valencia, Ibiza, Palma Mallorca, London, Porto, Lisbon, Faro, Vienna, Innsbruck, Monte Carlo. Can´t see your preferred location? Contact us and let us find a solution for you.
SUV / 4×4, Super Car, Sports Car, Executive Car, Luxury Minivan, Convertible Car or anything else, let us know what requirements you have and we will be happy to assist you.
We look forward to working with you!