295,00 € incl. VAT
Rent and unlimited pleasure
Adrenaline charged towards the sun. With high-precision handling, inspiring agility and exciting dynamics. With an engine that impressively demonstrates its superiority. With many technologies whose sporting DNA is unmistakable. With a certainty that manifests itself with a confident smile when the hardtop is open: the BMW M4 Convertible is sporty freedom on four wheels.
The M4 – BMW M4 Cabrio
The BMW M4 Convertible is immediately recognizable as a high-performance convertible. The powerful front and the elongated bonnet with power dome give the athletic silhouette expressive dynamism. Inside there is a sporty, exclusive ambience throughout. The driver-oriented cockpit is equipped with optimally readable round instruments in a motorsport look. And thus creates ideal conditions that raise open driving to a new level.
Optionen
Also included:
a specially adapted Adaptive M suspension,

a sportier tuning of the Dynamic Stability Control DSC

and the Active M Differential, high-she

en 20 "M light alloy wheels Star Spoke 666 M with mixed tires and an M sports exhaust system for a characterful sound.
Description
BMW 4 Series Convertible – The Sun Towards
BMW 4 Series Convertible-The Sun Towards. Catch the sun, feel the wind and savour those special driving moments. With sporty agility and stirring dynamics – accompanied by an impressive, aerodynamic design and stylish equipment with plenty of innovative functionalities. The ultimate contemporary defines freedom on four wheels.
BMW has combined a sporty exterior with a luxury cabriolet to create their all-new, BMW 4 Series Convertible. The car, new for 2019 is an upgrade. He offering you more luxury and comfort as well and large dose of power from its twin powered turbo engine. A true pleasure to drive on a sunny afternoon in Naples, Ibiza or Vienna, this is a convertible you will be happy to be seen with.
THRILLING AGILITY
Experience freedom pure with dynamics in a form that only the BMW 4 Series Convertible offers. Efficient engines with the special high thrust, the typical BMW rear-wheel drive, perfect axle load distribution and optional 8-speed Steptronic transmission ensure a uniquely dynamic driving sensation. Perfect road holding and first-class ride comfort are included.
Offering a retractable hardtop roof which is easy to work, the BMW 4 Series Convertible is a car that everyone can enjoy. With adaptive suspension and sports steering, these ensure top performance in this luxury cabriolet. That ensures all four passengers can enjoy your long holiday drives.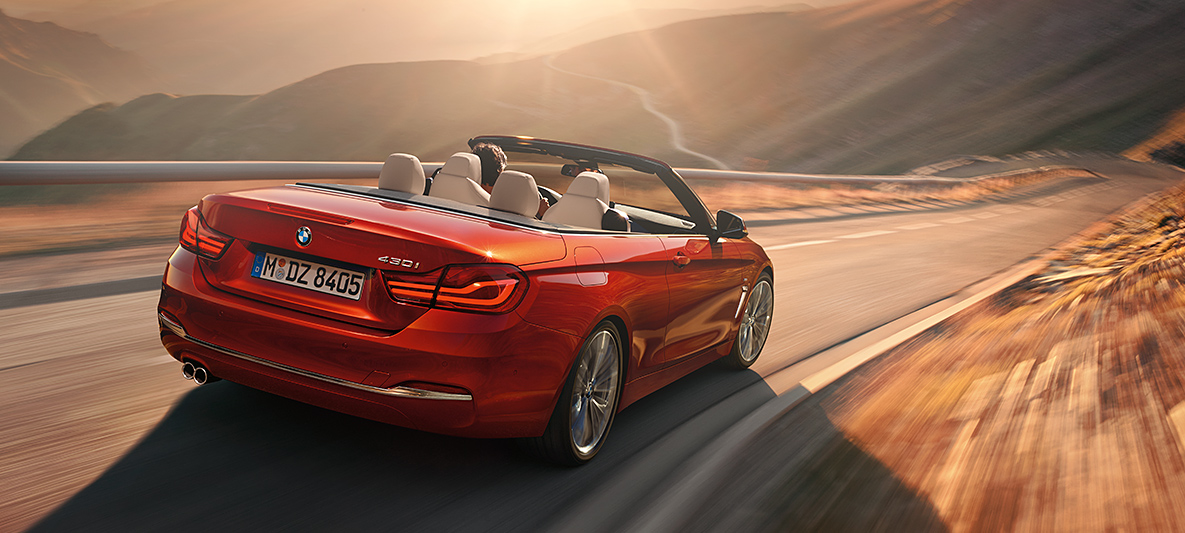 SPORTY FRONT END
The front section of the BMW 4 Series Convertible heralds the innovative sports appeal. The Modelled LED headlights flank the typical BMW double kidney grille. The dynamic presence off perfectly by the large air inlets with integral LED fog lights is perfect around.
Rent the BMW 4 Series Convertible for your summer getaway and take a coastal drive through Marbella, Estepona and Gibraltar. Hire the car in St Tropez and enjoy arriving at the sun-drenched beaches in style.
Brand
Europe Prestige Car Rent
Whether you´re looking for a luxury car rental for business or pleasure, we are here to help. With a wide range of cars, ranging from Super Cars to Executive Limousines, we have the luxury car hire, that you are looking for. With over 10 years experience in the luxury car hire industry, we understand our customers and their requirement for a straight forward, easy and effective service. At Europe Prestige Car Hire, we take pride in delivering exactly this.
Our passion, knowledge and drive to provide the best luxury car hire service in Europe, is what separates us from our competition. So whether you need to book a car fast, for the same day or you want to look at all of the available options, taking your time to decide on the right package for you, we will be with you every step of the way. This is what we enjoy. But our service doesn´t stop when you make the reservation, like with some companies. We are available at all times, to make sure your experience with us, is as good as it can possibly be.
If you are unsure which car you would like to book or where you would like to drive, contact us and we will be happy to assist you, in finding the best luxury car hire experience. Our cars are second to none and our service is top drawer. Let us use our experience to help you find your own, Europe Prestige Car Rent.
We offer the following prestige car brands in Europe: Aston Martin, Audi, Bentley, BMW, Ferrari, Lamborghini, Maserati, McLaren, Mercedes Benz, Porsche, Range Rover, Rolls Royce and many others besides.
Over the years, we have organised many car tours throughout Europe. Whether you need three or thirty cars, we have the experience and dedication, to organise a tour that suits your requirements. So if you are looking for a once in a lifetime, luxury car driving experience, contact us and we will be happy to help. Contact Europe Prestige Car Rent to arrange your trip to Europe. It doesn´t matter if you are going on a business trip, your dream driving holiday, or just want to try a Super Car for a day. We can help.
We offer a custom service. Delivery and collection of the car is offered at a location and time of you choosing. Airport, Hotel, Train Station, Private Villa, Marina, Home Address, it really doesn´t matter. We do the work, so you can simply enjoy renting one our our luxury cars. If you require Airport delivery, our driver will wait for you, holding a board with your name on it. They will then take you to the car and set you away, to enjoy your driving experience.
We offer cars all across Europe, with our main luxury fleets being available in Germany, Italy, France, Spain, Switzerland, United Kingdom, Portugal, Austria and Monaco. Major cities where we hold our cars include, Munich, Frankfurt, Berlin, Stuttgart, Milan, Rome, Florence, Naples, Venice, Bologna, Paris, Nice, St Tropez, Barcelona, Malaga, Marbella, Madrid, Valencia, Ibiza, Palma Mallorca, London, Porto, Lisbon, Faro, Vienna, Innsbruck, Monte Carlo. Can´t see your preferred location? Contact us and let us find a solution for you.
SUV / 4×4, Super Car, Sports Car, Executive Car, Luxury Minivan, Convertible Car or anything else, let us know what requirements you have and we will be happy to assist you.
We look forward to working with you!