850,00 € incl. VAT
Innovative all-new performance
Created for effortless, exhilarating driving, the new Continental GT is built on an innovative chassis and electrical architecture, featuring a completely new 6.0-litre W12 engine and an 8-speed dual-clutch transmission, for smooth, fast and efficient gear changes.

As a result, it can accelerate from 0 to 60 mph in 3.6 seconds (0 to 100 km/h in 3.7 seconds) and deliver a phenomenal top speed of 207 mph (333 km/h).
Four driving modes are accessible at the turn of a dial. Comfort optimises the chassis and drivetrain for luxurious cruising, while Sport mode retunes the engine for a more dynamic response – with the variable exhaust valve adjusting the character of the exhaust note to match. The Bentley mode provides the optimum combination of Sport and Comfort, while a Custom mode allows you to configure your own settings for future use.
Description
Bentley Motors – The New Continental GT
Bentley Motors – The New Continental GT features clean, super formed lines and a wide, low body, evoking a sense of speed and presence. On unlocking the car, a pre-programmed sequence of exterior lighting welcomes you. The interior mood lighting can be configured to your preference. The lighting strips created the car's key design lines. you can choose vibrant or muted settings in seven colours.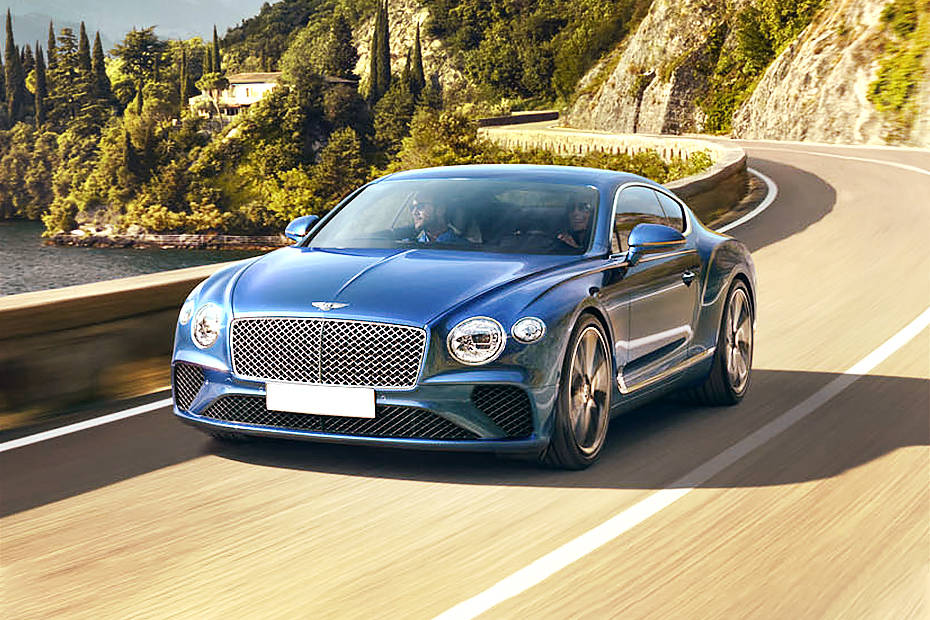 The seats are minimalist in style, with a streamlined design. That ensures they are as comfortable as they are elegant. Smooth centre panels maximise the effectiveness of heating cooling ventilation and massage functions. The seat memory selectors are located in the door pads. You can select your preferred seating position with a flick of a switch.
Effortlessly efficient
In the engine, there is high-pressure direct injection. The engines to switch seamlessly between these two. Along with a raft of fuel innovations, are emission levels are among the best in its class.
The most advanced Bentley ever
The new Continental GT features innovations throughout the drivetrain. It is the most advanced Bentley model ever built.
The Dual-clutch transmission provides impressively quick gearshifts and smooth acceleration. The 48V Active Roll Control system senses road conditions and changes the car's movement. It´s good to optimise the handling and ensure a smooth ride.

Brand
Europe Prestige Car Rent
Whether you´re looking for a luxury car rental for business or pleasure, we are here to help. With a wide range of cars, ranging from Super Cars to Executive Limousines, we have the luxury car hire, that you are looking for. With over 10 years experience in the luxury car hire industry, we understand our customers and their requirement for a straight forward, easy and effective service. At Europe Prestige Car Hire, we take pride in delivering exactly this.
Our passion, knowledge and drive to provide the best luxury car hire service in Europe, is what separates us from our competition. So whether you need to book a car fast, for the same day or you want to look at all of the available options, taking your time to decide on the right package for you, we will be with you every step of the way. This is what we enjoy. But our service doesn´t stop when you make the reservation, like with some companies. We are available at all times, to make sure your experience with us, is as good as it can possibly be.
If you are unsure which car you would like to book or where you would like to drive, contact us and we will be happy to assist you, in finding the best luxury car hire experience. Our cars are second to none and our service is top drawer. Let us use our experience to help you find your own, Europe Prestige Car Rent.
We offer the following prestige car brands in Europe: Aston Martin, Audi, Bentley, BMW, Ferrari, Lamborghini, Maserati, McLaren, Mercedes Benz, Porsche, Range Rover, Rolls Royce and many others besides.
Over the years, we have organised many car tours throughout Europe. Whether you need three or thirty cars, we have the experience and dedication, to organise a tour that suits your requirements. So if you are looking for a once in a lifetime, luxury car driving experience, contact us and we will be happy to help. Contact Europe Prestige Car Rent to arrange your trip to Europe. It doesn´t matter if you are going on a business trip, your dream driving holiday, or just want to try a Super Car for a day. We can help.
We offer a custom service. Delivery and collection of the car is offered at a location and time of you choosing. Airport, Hotel, Train Station, Private Villa, Marina, Home Address, it really doesn´t matter. We do the work, so you can simply enjoy renting one our our luxury cars. If you require Airport delivery, our driver will wait for you, holding a board with your name on it. They will then take you to the car and set you away, to enjoy your driving experience.
We offer cars all across Europe, with our main luxury fleets being available in Germany, Italy, France, Spain, Switzerland, United Kingdom, Portugal, Austria and Monaco. Major cities where we hold our cars include, Munich, Frankfurt, Berlin, Stuttgart, Milan, Rome, Florence, Naples, Venice, Bologna, Paris, Nice, St Tropez, Barcelona, Malaga, Marbella, Madrid, Valencia, Ibiza, Palma Mallorca, London, Porto, Lisbon, Faro, Vienna, Innsbruck, Monte Carlo. Can´t see your preferred location? Contact us and let us find a solution for you.
SUV / 4×4, Super Car, Sports Car, Executive Car, Luxury Minivan, Convertible Car or anything else, let us know what requirements you have and we will be happy to assist you.
We look forward to working with you!