895,00 € incl. VAT
The grand finale of our Centenary trilogy
Taking open-air grand touring to exhilarating new heights, the third and final Limited Edition in our Centenary series is here. Inspired by the legendary 1929 No.1 Bentley Blower, this is a car that celebrates a century of intrepid racing endeavours and innovation.

The Continental GT Convertible Number 1 Edition by Mulliner also pays tribute to pioneering individuals such as the Hon. Dorothy Paget, who played an important part in the thrilling achievements of the No. 1 Bentley Blower.
The elevated performance and advanced technology of the new Continental GT Convertible have been combined with design features inspired by the No. 1 Blower, to create an exciting fusion of Bentley's past, present and future.
Each car contains something truly priceless: a piece of a piston taken from the No. 1 Blower during its restoration. This has been exquisitely recast into the shape of a Bentley wheel spinner, much like those of the No.1 Blower. Displayed within the Bentley Rotating Display on the veneered fascia, this fascinating detail makes every one of these cars truly unique.

With only 100 cars being made, this is a rare opportunity to own a piece of Bentley's history. Discover more about the Continental GT Convertible Number 1 Edition by Mulliner, along with the formidable people and illustrious car that inspired it here, or

talk to your Bentley dealer

.
Description
Bentley Continental GTC – BENTLEY MOTORS
New Continental Range
The world of grand touring has changed. Enter the new Continental GT, heralding a new era of unrivalled power, exquisite craftsmanship and cutting-edge automotive technology.
The Bentley Continental GTC is available as both a Coupe and Convertible – better known as the Bentley Continental GTC. These cars take Bentley to the head of the iconic Grand Tourer group of car and open up a new realm of excitement and possibilities. The convertible now offers a new automatic roof – a long-awaited edition. But that´s not the only new addition. The Bentley Continental GT is full of new features and refinements. Finally, after years of little tweaks here and there, the new Bentley Continental GT has taken a giant leap forward. Meaner, grittier and packed full of sports options, this is a new kind of Bentley. A fashionable Bentley.
When you rent the Bentley Continental GT or GTC you get the same opulence that all Bentleys deliver and the great thing is, whether you prefer to rent the coupe or convertible, the performance in both models is almost identical. With a lower bonnet, chiselled lines and the typical wire mesh grill that screams Bentley, this is a Bentley that you really must drive.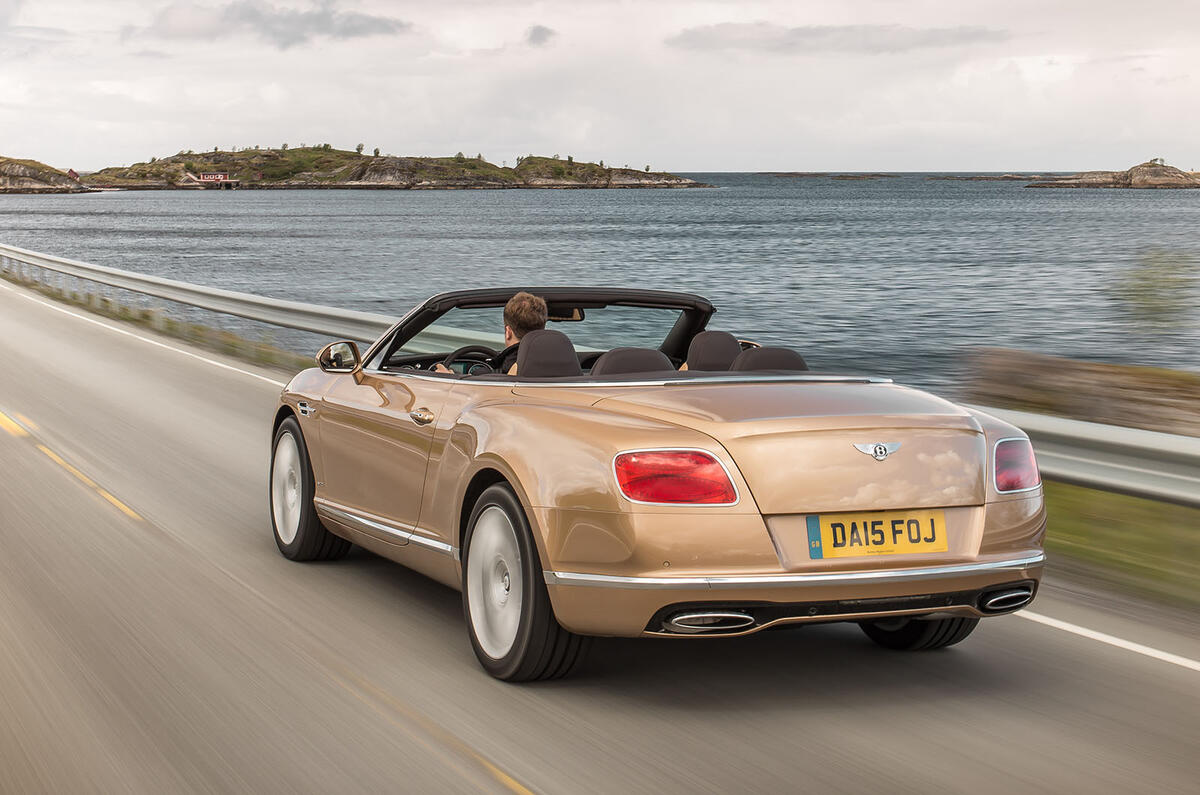 The Bentley Continental GT and GTC models are available for rental across Europe but to get the best out of the car, why not take it for a road trip from Rome to Milan, taking in the sites of Pisa and Forte Dei Marmi along the way? One thing is for sure, when you hire the Bentley Continental, it will be a trip you will never forget.
Design
Unrivalled road presence
Both the new Bentley Continental GT and the new Continental GT Convertible combine classic grand tourer proportions with a completely new chassis and electrical architecture. This has enabled the design team to create a car that is impressively long, low, wide and sleek. The result is a truly beautiful, agile grand tourer with unrivalled road presence.
Steel, aluminium and composite materials take their place alongside finely crafted veneers and leather in a stunning example of automotive design – one that can be enhanced with a wealth of options.
Exterior Design
The sharp, crisp feature lines of the new Continental range show the influence of the original Bentley R-Type Continental. The muscular haunch line exudes a sense of refined power, while the power line now emerges from between the headlamps, tracing a path down the side of the car.
The long wheelbase and short nose lend the car a sense of dynamism, even when viewed at a standstill. Beneath the bonnet, this arrangement allows the engine to be located lower, for optimum weight distribution and more agile handling.
Intricately crafted new crystal-effect LED headlamps help define a new face for the Continental, while at the rear, newly designed elliptical lamps shine from within individual polished bezels – their shape reflected in the oval tailpipes.
A wide range of custom-designed 20" and 21" wheels can be commissioned, with a choice of 22" designs available with the optional Mulliner Driving Specification. With their twisting 3D surfaces, these larger wheels reflect the light magnificently, thanks to a finish that can only be achieved by hand. To explore the options, visit the Bentley Configurator.
For those who like to drive in the open air, the new Continental GT Convertible and GT V8 Convertible offer a sleek, open-top take on the stunning lines of this remarkable car.
Brand
Europe Prestige Car Rent
Whether you´re looking for a luxury car rental for business or pleasure, we are here to help. With a wide range of cars, ranging from Super Cars to Executive Limousines, we have the luxury car hire, that you are looking for. With over 10 years experience in the luxury car hire industry, we understand our customers and their requirement for a straight forward, easy and effective service. At Europe Prestige Car Hire, we take pride in delivering exactly this.
Our passion, knowledge and drive to provide the best luxury car hire service in Europe, is what separates us from our competition. So whether you need to book a car fast, for the same day or you want to look at all of the available options, taking your time to decide on the right package for you, we will be with you every step of the way. This is what we enjoy. But our service doesn´t stop when you make the reservation, like with some companies. We are available at all times, to make sure your experience with us, is as good as it can possibly be.
If you are unsure which car you would like to book or where you would like to drive, contact us and we will be happy to assist you, in finding the best luxury car hire experience. Our cars are second to none and our service is top drawer. Let us use our experience to help you find your own, Europe Prestige Car Rent.
We offer the following prestige car brands in Europe: Aston Martin, Audi, Bentley, BMW, Ferrari, Lamborghini, Maserati, McLaren, Mercedes Benz, Porsche, Range Rover, Rolls Royce and many others besides.
Over the years, we have organised many car tours throughout Europe. Whether you need three or thirty cars, we have the experience and dedication, to organise a tour that suits your requirements. So if you are looking for a once in a lifetime, luxury car driving experience, contact us and we will be happy to help. Contact Europe Prestige Car Rent to arrange your trip to Europe. It doesn´t matter if you are going on a business trip, your dream driving holiday, or just want to try a Super Car for a day. We can help.
We offer a custom service. Delivery and collection of the car is offered at a location and time of you choosing. Airport, Hotel, Train Station, Private Villa, Marina, Home Address, it really doesn´t matter. We do the work, so you can simply enjoy renting one our our luxury cars. If you require Airport delivery, our driver will wait for you, holding a board with your name on it. They will then take you to the car and set you away, to enjoy your driving experience.
We offer cars all across Europe, with our main luxury fleets being available in Germany, Italy, France, Spain, Switzerland, United Kingdom, Portugal, Austria and Monaco. Major cities where we hold our cars include, Munich, Frankfurt, Berlin, Stuttgart, Milan, Rome, Florence, Naples, Venice, Bologna, Paris, Nice, St Tropez, Barcelona, Malaga, Marbella, Madrid, Valencia, Ibiza, Palma Mallorca, London, Porto, Lisbon, Faro, Vienna, Innsbruck, Monte Carlo. Can´t see your preferred location? Contact us and let us find a solution for you.
SUV / 4×4, Super Car, Sports Car, Executive Car, Luxury Minivan, Convertible Car or anything else, let us know what requirements you have and we will be happy to assist you.
We look forward to working with you!