295,00 € incl. VAT
All around convincing
Anyone who drives an Audi TT Roadster likes something special. Look forward to the TT Roadster and rent it for your leisure and weekend trips.
A 2.0-litre TFSI variant from 145 kW (197 hp) with 7-speed S Tronic to 180 kW (245 hp).

with 6-speed manual transmission or S-Tronic supports you when driving.
The standard Audi drive select driving dynamics system also has a large share in the sporty driving experience.
In a hurry
The black fabric soft top of the Audi TT Roadster opens completely in just ten seconds.
Description
Audi TT Roadster The Universal Talent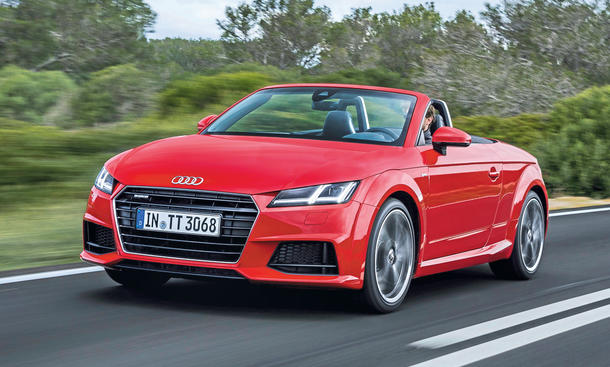 Audi TT Roadster The Universal Talent. Enjoy timeless aesthetics and striking design. Benefit from innovative technologies and digital features. Experience sporty dynamics and the joy of open driving.
The Audi TT Roadster is the convertible version of the popular and powerful Audi TT Coupe. Small, sleek and sporty, the Audi TT Roadster offers everything you want from a sports-convertible. With its turbo engine, offering 265 horsepower, you can whip from 0-100 km/h in just 6.4 seconds. The Audi TT Roadster offers all of Audi´s supreme engineering and technical quality.
A classic two-seat sports car, the Audi TT Roadster is made for the open road. Audi´s design team have created a distinctive shape, described by some as a form of modernism. The interior of the Audi TT Roadster benefits from extensive aluminium detailing. When you hire the Audi TT you will appreciate the power and handling of the car. Which is mainly due to its lightweight chassis and slender body. Take the Quattro option and benefit from four-wheel-drive.
Interior
The fabric roof is heavily insulated. It keeps wind noise to a subdued the windscreen. Top-down, you get a fair bit of wind coming over the back deck, so it's a shame the retractable wind deflector is a £425 option. Even so, you're protected enough to be able to do a steady cruise.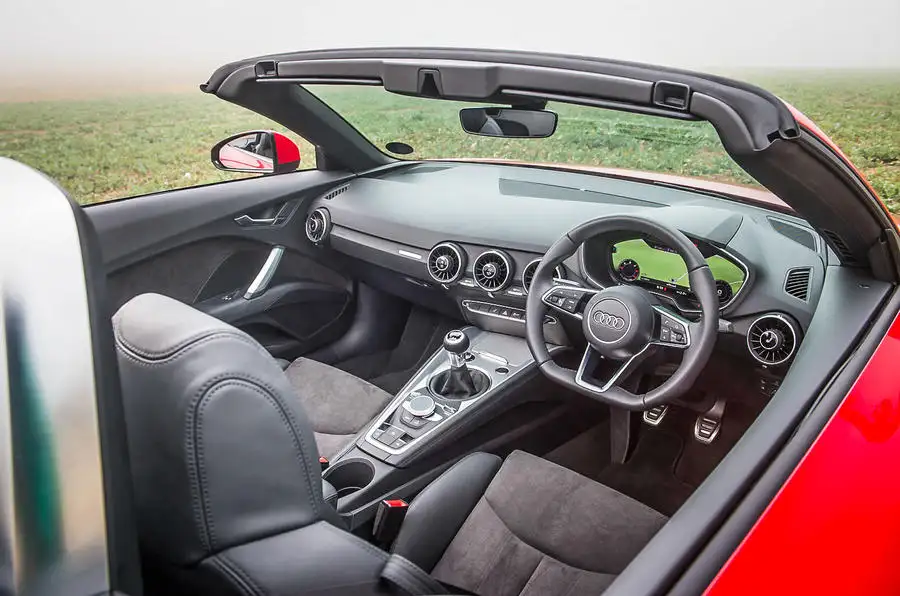 Rent the Audi TT Roadster in Cologne and power your way across Germany with the top down. Why not hire the Audi TT Roadster during the Italian summer-time and enjoy a trip along the Amalfi Coast.
Brand
Europe Prestige Car Rent
Whether you´re looking for a luxury car rental for business or pleasure, we are here to help. With a wide range of cars, ranging from Super Cars to Executive Limousines, we have the luxury car hire, that you are looking for. With over 10 years experience in the luxury car hire industry, we understand our customers and their requirement for a straight forward, easy and effective service. At Europe Prestige Car Hire, we take pride in delivering exactly this.
Our passion, knowledge and drive to provide the best luxury car hire service in Europe, is what separates us from our competition. So whether you need to book a car fast, for the same day or you want to look at all of the available options, taking your time to decide on the right package for you, we will be with you every step of the way. This is what we enjoy. But our service doesn´t stop when you make the reservation, like with some companies. We are available at all times, to make sure your experience with us, is as good as it can possibly be.
If you are unsure which car you would like to book or where you would like to drive, contact us and we will be happy to assist you, in finding the best luxury car hire experience. Our cars are second to none and our service is top drawer. Let us use our experience to help you find your own, Europe Prestige Car Rent.
We offer the following prestige car brands in Europe: Aston Martin, Audi, Bentley, BMW, Ferrari, Lamborghini, Maserati, McLaren, Mercedes Benz, Porsche, Range Rover, Rolls Royce and many others besides.
Over the years, we have organised many car tours throughout Europe. Whether you need three or thirty cars, we have the experience and dedication, to organise a tour that suits your requirements. So if you are looking for a once in a lifetime, luxury car driving experience, contact us and we will be happy to help. Contact Europe Prestige Car Rent to arrange your trip to Europe. It doesn´t matter if you are going on a business trip, your dream driving holiday, or just want to try a Super Car for a day. We can help.
We offer a custom service. Delivery and collection of the car is offered at a location and time of you choosing. Airport, Hotel, Train Station, Private Villa, Marina, Home Address, it really doesn´t matter. We do the work, so you can simply enjoy renting one our our luxury cars. If you require Airport delivery, our driver will wait for you, holding a board with your name on it. They will then take you to the car and set you away, to enjoy your driving experience.
We offer cars all across Europe, with our main luxury fleets being available in Germany, Italy, France, Spain, Switzerland, United Kingdom, Portugal, Austria and Monaco. Major cities where we hold our cars include, Munich, Frankfurt, Berlin, Stuttgart, Milan, Rome, Florence, Naples, Venice, Bologna, Paris, Nice, St Tropez, Barcelona, Malaga, Marbella, Madrid, Valencia, Ibiza, Palma Mallorca, London, Porto, Lisbon, Faro, Vienna, Innsbruck, Monte Carlo. Can´t see your preferred location? Contact us and let us find a solution for you.
SUV / 4×4, Super Car, Sports Car, Executive Car, Luxury Minivan, Convertible Car or anything else, let us know what requirements you have and we will be happy to assist you.
We look forward to working with you!