395,00 € incl. VAT
Overview
The 2021 Audi RS7 Sportback is a wide-bodied, heart-pounding four-door sports car that features a usable back seat and practical hatchback. This all-new RS7 represents the mightiest version of the comparably subdued Audi A7. The RS model wears more aggressive-looking bodywork and has exclusive high-performance equipment that helps it compete with raucous rivals such as the Mercedes-AMG GT63s and Porsche Panamera Turbos.
Description
Audi RS7 Flexes The Muscles – More Elegant And Individual
Audi RS7 Flexes The Muscles – More Elegant And Individual. Audi's RS7 is a freak.
This is a hodgepodge of current trends bolted together. Touchscreens galore, mild-hybrid system, fastback four-door body, turbochargers, four-wheel steering. With a brought of nearly 600 horsepower he wakeup to the life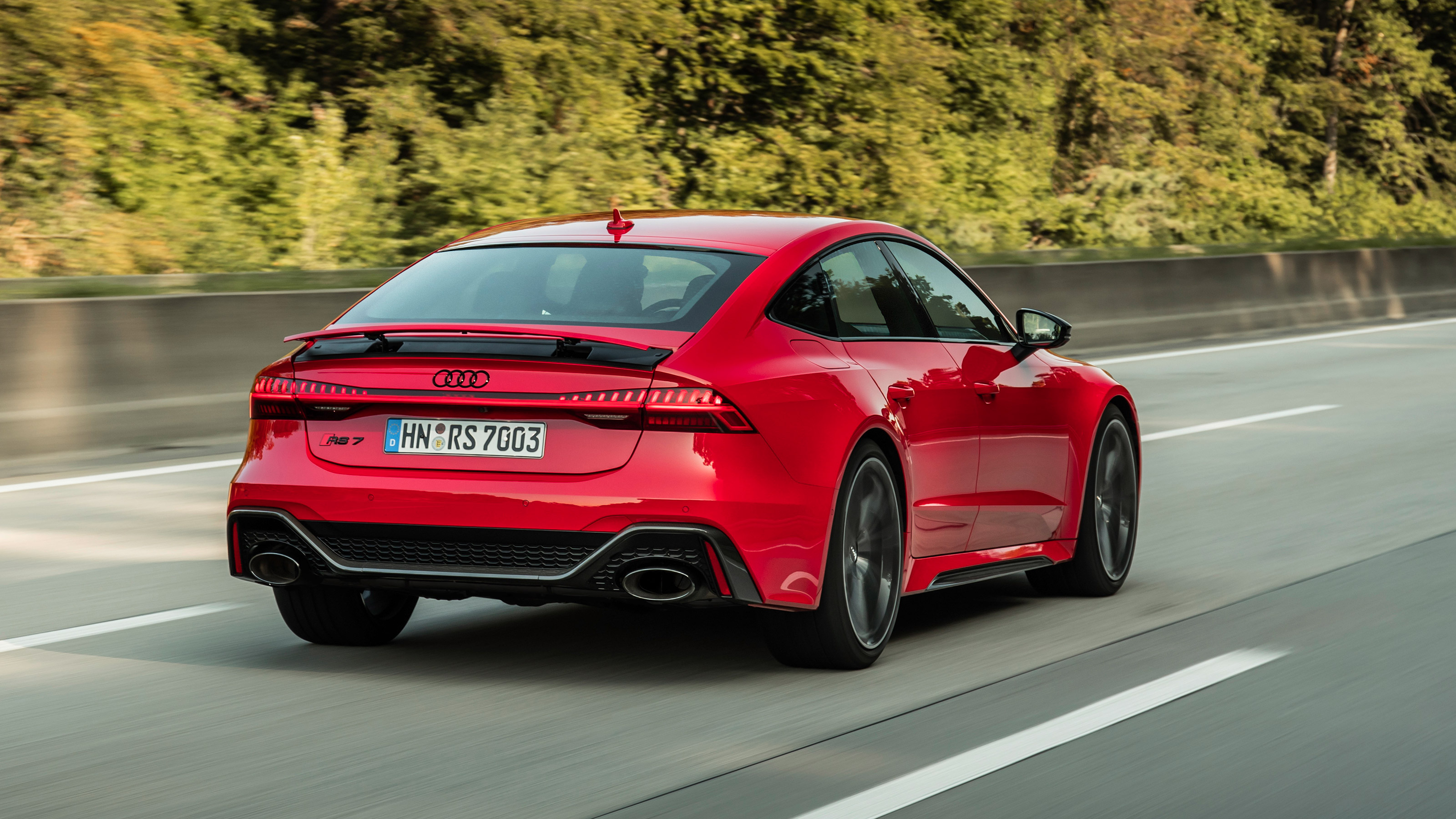 Beefed up, powered up and improved all around, the Audi RS7 is Audi´s sports version of the A7 model and it comes with an impressive, twin-turbo 4.0 litre, V8 engine which. He is paired with a high voltage hybrid system, eight-speed transmission and Audi´s Quattro all-wheel drive. The RS7 grinds out a whopping 591 BhP and throws you up to 100 Km/H in 3.6 seconds
and He finally topping out at just over the 300 Km/H mark.
Included with the RS7 is an air suspension package, offering the driver adaptive settings, which allow a varied ride quality. 21-inch alloys, optional rear-wheel steering and ceramic brakes, all provide a much more agile car with improved stopping power.
The Audi RS7 shares its interior design with the standard A7 however it does have some exclusive RS detailing. An RS trim adorned cabin, leather-upholstered, ventilated, sport seats in the front, whilst in the back, you will find a spacious zone for your passengers to enjoy too. Through the Large luggage capacity in the boot, is this car useful as well as fun.

Rent the Audi RS7 in Europe. You will find it available in most cities, including Munich, Bologna and Cannes. An Audi RS7 rental is suitable for any location.
Interior
While the RS model shares an interior design and passenger space with the regular A7, it also has some exclusive details and intriguing options. Of course, the sturdy build quality and upscale materials will be immediately recognizable. Still, the RS7's cabin is adorned with trim-specific logos and other unique accents. The standard front sport seats have nice leather upholstery but can be reskinned with upgraded leather and ventilated cushions. Its back seat can fit two or three people, depending on the chosen seat configuration, and its cargo area offers 19 cubic feet of space with the rear seats in use and 49 cubic feet with the rear seats folded.
Brand
Europe Prestige Car Rent
Whether you´re looking for a luxury car rental for business or pleasure, we are here to help. With a wide range of cars, ranging from Super Cars to Executive Limousines, we have the luxury car hire, that you are looking for. With over 10 years experience in the luxury car hire industry, we understand our customers and their requirement for a straight forward, easy and effective service. At Europe Prestige Car Hire, we take pride in delivering exactly this.
Our passion, knowledge and drive to provide the best luxury car hire service in Europe, is what separates us from our competition. So whether you need to book a car fast, for the same day or you want to look at all of the available options, taking your time to decide on the right package for you, we will be with you every step of the way. This is what we enjoy. But our service doesn´t stop when you make the reservation, like with some companies. We are available at all times, to make sure your experience with us, is as good as it can possibly be.
If you are unsure which car you would like to book or where you would like to drive, contact us and we will be happy to assist you, in finding the best luxury car hire experience. Our cars are second to none and our service is top drawer. Let us use our experience to help you find your own, Europe Prestige Car Rent.
We offer the following prestige car brands in Europe: Aston Martin, Audi, Bentley, BMW, Ferrari, Lamborghini, Maserati, McLaren, Mercedes Benz, Porsche, Range Rover, Rolls Royce and many others besides.
Over the years, we have organised many car tours throughout Europe. Whether you need three or thirty cars, we have the experience and dedication, to organise a tour that suits your requirements. So if you are looking for a once in a lifetime, luxury car driving experience, contact us and we will be happy to help. Contact Europe Prestige Car Rent to arrange your trip to Europe. It doesn´t matter if you are going on a business trip, your dream driving holiday, or just want to try a Super Car for a day. We can help.
We offer a custom service. Delivery and collection of the car is offered at a location and time of you choosing. Airport, Hotel, Train Station, Private Villa, Marina, Home Address, it really doesn´t matter. We do the work, so you can simply enjoy renting one our our luxury cars. If you require Airport delivery, our driver will wait for you, holding a board with your name on it. They will then take you to the car and set you away, to enjoy your driving experience.
We offer cars all across Europe, with our main luxury fleets being available in Germany, Italy, France, Spain, Switzerland, United Kingdom, Portugal, Austria and Monaco. Major cities where we hold our cars include, Munich, Frankfurt, Berlin, Stuttgart, Milan, Rome, Florence, Naples, Venice, Bologna, Paris, Nice, St Tropez, Barcelona, Malaga, Marbella, Madrid, Valencia, Ibiza, Palma Mallorca, London, Porto, Lisbon, Faro, Vienna, Innsbruck, Monte Carlo. Can´t see your preferred location? Contact us and let us find a solution for you.
SUV / 4×4, Super Car, Sports Car, Executive Car, Luxury Minivan, Convertible Car or anything else, let us know what requirements you have and we will be happy to assist you.
We look forward to working with you!