495,00 € incl. VAT
Why so little love for the Coupe, then?
As an everyday supercar, it excels. He is extremely proficient, refined and disciplined. It is also, as a result, terrifically safe and somewhat aloof. Consequently, those looking for heart-trembling excitement may find it lacking. This new drop-top version, however, reinstates some of the thrill required to get the blood flowing. The fixed-roof cocoon of safety is gone, and you are more exposed – both to the elements, which can be joyous itself, and the car.

A 0-62mph sprint time of 3.3 seconds is 0.3 seconds faster than the standard Spyder

and its 204mph top speed is 6mph faster, too.

Convertible top model with 449 kW (610 hp)

Performance mode, R8 bucket seats,

ceramic brake system

and carbon components included as standard equipment
Description
AUDI R8 V10 Plus Spyder – Just In Time For Summer
AUDI R8 V10 Plus Spyder – Just In Time For Summer. Available to rent as both a Coupe and Spyder, the R8 V10 Plus personifies the philosophies of Audi and their motto – "Vorsprung Durch Technik." Technical quality, precision engineering and innovation in abundance – the result of the new Audi R8 V10 Plus models is simply put, one of the best sports cars you can buy. If you rent this car, you will fall in love with the roar of the engine, the grip whilst cornering and the sheer power offered up by the V10 engine and its 602 horsepower.
Everything about the Audi R8 V10 Plus will surprise you. Its handling is supreme, something that you don´t always expect from cars with such a mammoth engine. Performance specifications are usually a fallacy. You feel in complete control and would be happy to drive for hours. Whilst still feeling well-rested and as with all Audi models, the engineering quality is second to none.
With the Audi R8 Spyder or Audi R8 Coupe you are guaranteed to impress, so why not plant your foot to the floor and stream through the Italian countryside from Florence to Siena? Or really put the foot down on the Autobahns and rent the Audi R8 V10 Plus in Berlin.
Interior
If you inside In Audi supercar which is to say the first thing you notice once is the refinement – and the ride comfort.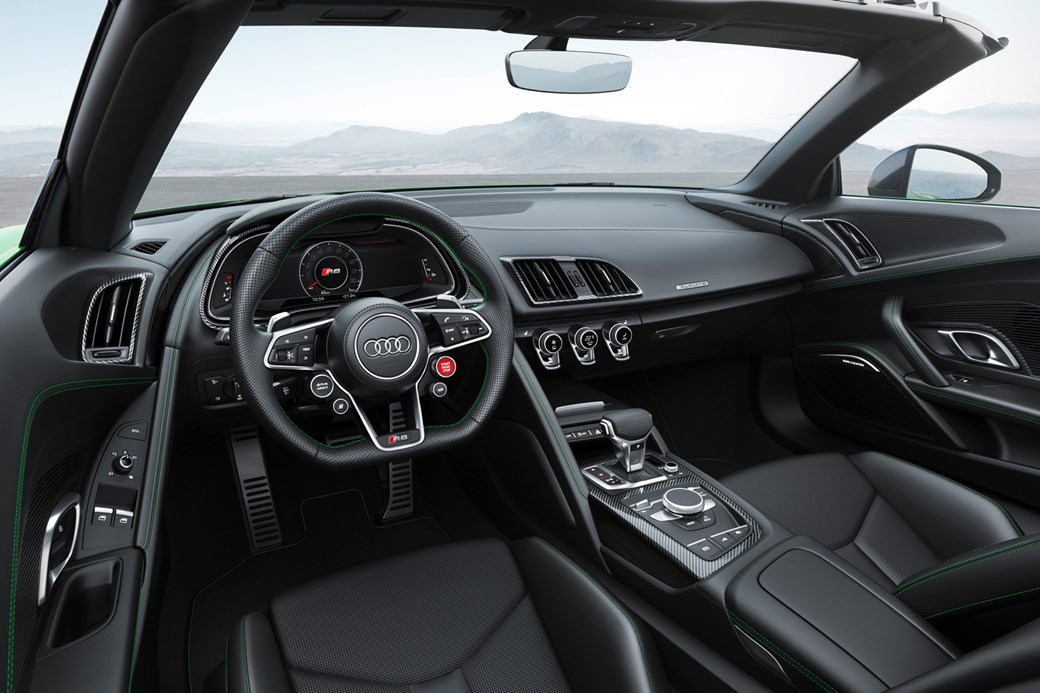 While we can't deny the appeal of 610 horsepower from the Plus, it´s on performance comes at the cost of comfort and smoothness. That´s are the R8's key attributes. As such, we'd get the R8 V10 Coupe since it delivers enough thrills to satisfy even hard-core enthusiasts. Its all-wheel-drive, standard adaptive suspension, fully adjustable seats and larger fuel tank make it the ideal exotic sports car.
Brand
Europe Prestige Car Rent
Whether you´re looking for a luxury car rental for business or pleasure, we are here to help. With a wide range of cars, ranging from Super Cars to Executive Limousines, we have the luxury car hire, that you are looking for. With over 10 years experience in the luxury car hire industry, we understand our customers and their requirement for a straight forward, easy and effective service. At Europe Prestige Car Hire, we take pride in delivering exactly this.
Our passion, knowledge and drive to provide the best luxury car hire service in Europe, is what separates us from our competition. So whether you need to book a car fast, for the same day or you want to look at all of the available options, taking your time to decide on the right package for you, we will be with you every step of the way. This is what we enjoy. But our service doesn´t stop when you make the reservation, like with some companies. We are available at all times, to make sure your experience with us, is as good as it can possibly be.
If you are unsure which car you would like to book or where you would like to drive, contact us and we will be happy to assist you, in finding the best luxury car hire experience. Our cars are second to none and our service is top drawer. Let us use our experience to help you find your own, Europe Prestige Car Rent.
We offer the following prestige car brands in Europe: Aston Martin, Audi, Bentley, BMW, Ferrari, Lamborghini, Maserati, McLaren, Mercedes Benz, Porsche, Range Rover, Rolls Royce and many others besides.
Over the years, we have organised many car tours throughout Europe. Whether you need three or thirty cars, we have the experience and dedication, to organise a tour that suits your requirements. So if you are looking for a once in a lifetime, luxury car driving experience, contact us and we will be happy to help. Contact Europe Prestige Car Rent to arrange your trip to Europe. It doesn´t matter if you are going on a business trip, your dream driving holiday, or just want to try a Super Car for a day. We can help.
We offer a custom service. Delivery and collection of the car is offered at a location and time of you choosing. Airport, Hotel, Train Station, Private Villa, Marina, Home Address, it really doesn´t matter. We do the work, so you can simply enjoy renting one our our luxury cars. If you require Airport delivery, our driver will wait for you, holding a board with your name on it. They will then take you to the car and set you away, to enjoy your driving experience.
We offer cars all across Europe, with our main luxury fleets being available in Germany, Italy, France, Spain, Switzerland, United Kingdom, Portugal, Austria and Monaco. Major cities where we hold our cars include, Munich, Frankfurt, Berlin, Stuttgart, Milan, Rome, Florence, Naples, Venice, Bologna, Paris, Nice, St Tropez, Barcelona, Malaga, Marbella, Madrid, Valencia, Ibiza, Palma Mallorca, London, Porto, Lisbon, Faro, Vienna, Innsbruck, Monte Carlo. Can´t see your preferred location? Contact us and let us find a solution for you.
SUV / 4×4, Super Car, Sports Car, Executive Car, Luxury Minivan, Convertible Car or anything else, let us know what requirements you have and we will be happy to assist you.
We look forward to working with you!